Gordon's Wine Cellar
Gordon's Wine Cellar is collaboration with both Laithwaite's and Majestic Wines to bring wine to our Gordon's community while raising funds for the school at the same time. Each month we hope to bring you the latest offers on wine from these two companies. Our wines can be ordered through the link below and we offer free delivery within a 10 mile radius of GU24 9PT
Veuve clicquot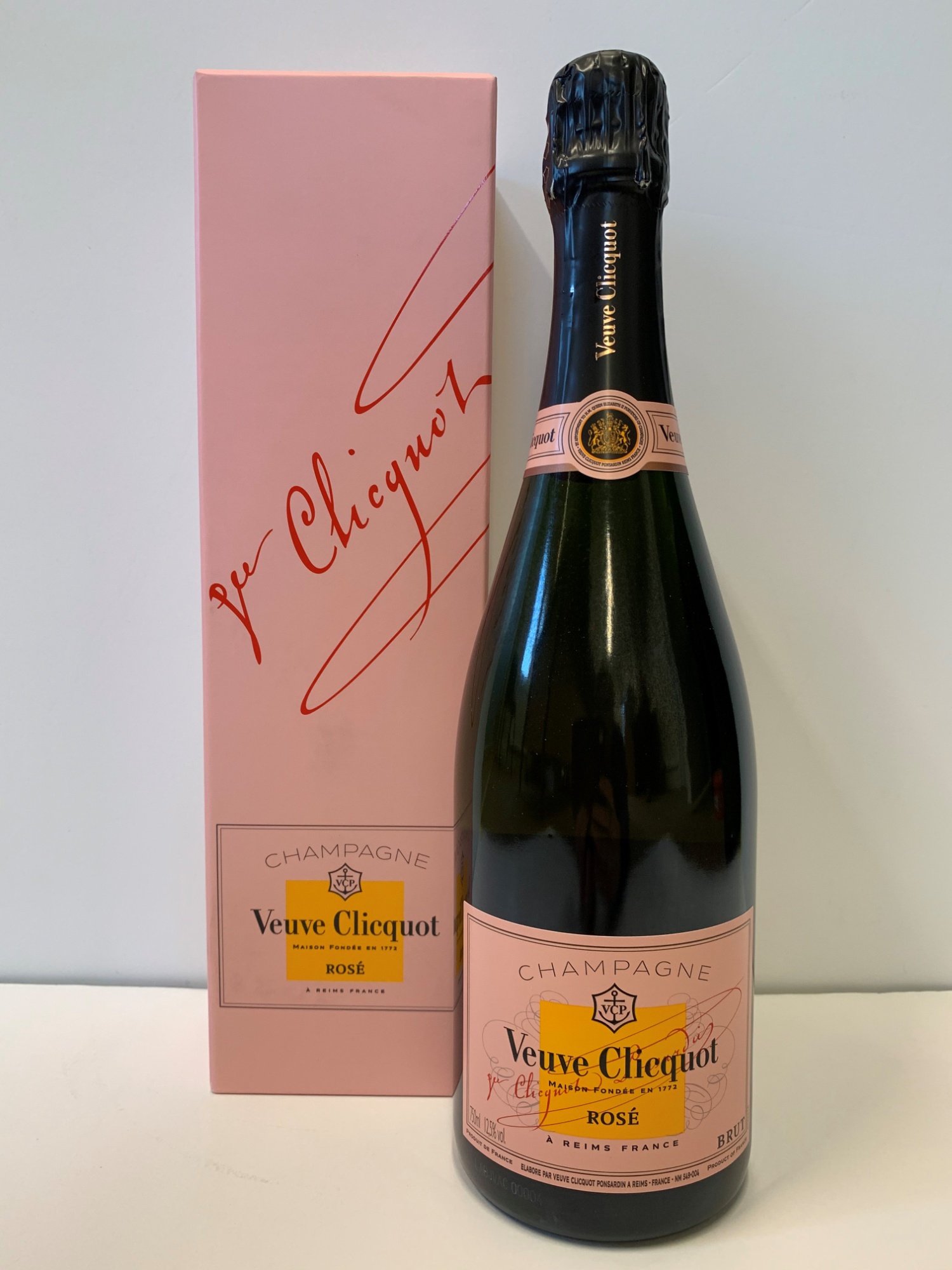 A relatively recent addition to the Veuve Clicquot stable, this medium bodied rosé is reminiscent of the power and finesse of the non-vintage label, with a soft red-fruit core. Match with smoked salmon or strawberries and cream for optimum enjoyment. Only £52 per bottle.
| | |
| --- | --- |
| TYPE | Sparkling |
| GRAPE | Pinot Noir, Chardonnay |
| STYLE | Sparkling |
| ABV | 12.5% |
| UNITS | 9.4 |
| COUNTRY | France |
This month we will be offering the following:
Laithwaite's Mixed and Red Mystery Box:
this will include a mixed selection of three reds and three whites at the amazing price of £30 per box.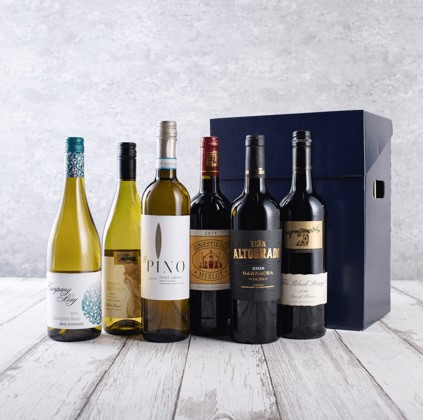 Variety they say is the spice of life, so why not spice up January with a mystery 6 bottle case of wine and try something a little different? Each case contains either 3 white and 3 red wines (Mixed Box) or 6 red wines (Red Wine Mixed) from across the globe, with a minimum retail value of £62.50 it's guaranteed to brighten up those cold winter evenings and the case saving isn't bad either!
Majestic Luxury Mixed Box of 6 Wines:
this will include the wines below at a cost of £40 per box. The wines listed below are in the luxury mixed box.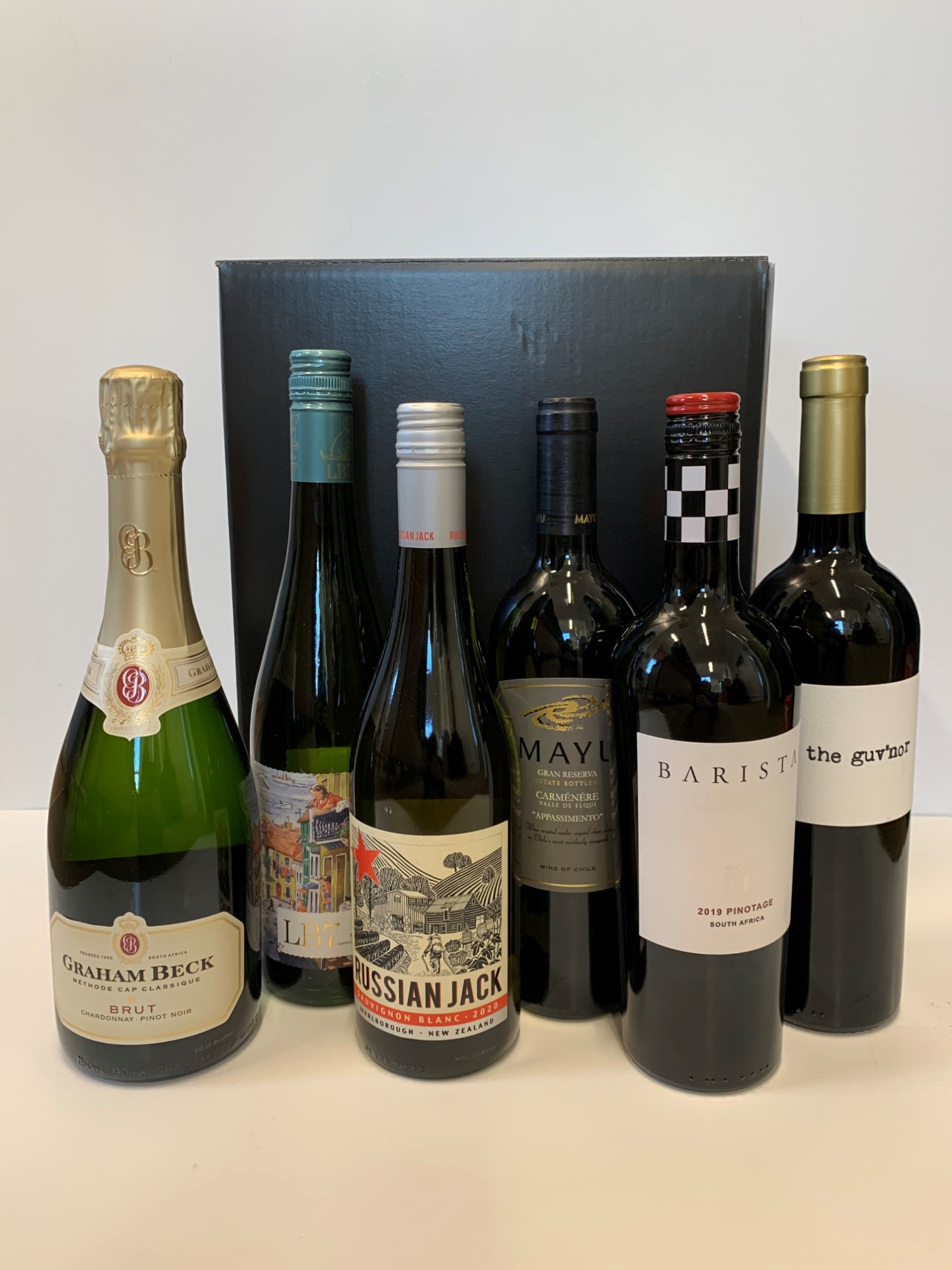 Graham Beck Brut
You'll be in good company when you uncork a bottle of this Brut NV. It's affectionately known as the 'President's Choice' because it was served at both Nelson Mandela's inauguration and Barack Obama's presidential win. It's an 'MCC', méthode cap Classique - a style identical to the traditional method used to make Champagne, using Chardonnay and Pinot Noir too. It means it's a real steal for fizz fans who love the taste of Champagne - but not the price. Fresh but creamy. Full of limey citrus flavours - it's got a lovely briochey richness from its second fermentation in bottle. It's fantastic with cheesy nibbles.
Barista Pinotage 2018/19, South Africa
From the Val de Vie wine estate in the heart of the cape winelands, where wine production dates back to 1825. This is a deliberately modern offering by winemaker Bertus Fourie, who has concentrated on drawing out the coffee-like aromas of South Africa's signature grape. Intense on the nose, with a bouquet of coffee, chocolate and cherry, with meaty, savoury hints. The tannins are ripe, perfectly suiting the round and mouth-filling plum and mulberry fruit. Drink on its own or with red meat dishes. Bertus recommends a blue-cheese-filled brandy snap with chocolate and roasted coffee beans!
| | |
| --- | --- |
| TYPE | Red |
| GRAPE | Pinotage |
| STYLE | Big Red |
| CLOSURE | Screwcap |
| ABV | 13% |
| UNITS | 10.1 |
| COUNTRY | South Africa |
Russian Jack Sauvignon Blanc 2020 Marlborough
European settlers arrived in New Zealand in only 1840 - and 'swaggers' set about clearing scrub from regions we think of today as winemaking hubs. Russian Jack was one of these gentlemen of the road. He'd appear on farms at harvest time to pick fruit, well into his old age. He became a bit of a legend - there's even a statue in his memory. Like its namesake, this wine is a bit special. It's made with grapes from certified sustainable vineyards, and there is no compromise on quality. Every vintage has only one bottling, with the wine left on its lees to concentrate the flavours and round out the texture. Passionfruit. Elderflower. Gooseberry. It's seriously aromatic - and seriously mouthwatering. And with such bold flavours, it's perfect with Thai-style fishcakes.
| | |
| --- | --- |
| TYPE | White |
| GRAPE | Sauvignon Blanc |
| STYLE | Fruity White |
| CLOSURE | Screwcap |
| ABV | 13% |
| UNITS | 9.4 |
| COUNTRY | New Zealand |
The Guv'nor
The Guv'nor is delicious proof that throwing out the rulebook can yield fantastic results. Spain's wine laws are notoriously strict and convoluted. The Guv'nor breaks them all. We commissioned the winemakers to make the best possible they could - no rules, no restrictions, no red tape. The wine they want to kick back with after a long day in the vineyards. The result? It's bold. It's fruity. It's a very modern Spanish red - a blend of everything that makes Spanish wine so fantastic. Made with Tempranillo grapes from a number of top vineyards - the only thing it lacks is the restrictions which usually constrain them. It's the perfect wine to have in your wine rack. Everyone loves it and it goes with everything - especially spicy barbecue meats or anything chargrilled.
| | |
| --- | --- |
| TYPE | Red |
| GRAPE | Tempranillo |
| STYLE | Smooth Red |
| ABV | 14% |
| UNITS | 10.5 |
| COUNTRY | Spain |
LB7 Vinho Verde 2019, Portugal
If Port is Portugals's signature red, then Vinho Verde is its flagship white. 'Green wine' is served in every Lisbon restaurant - a light, fresh, spritzy aperitif. And this is made by Calcada, the Vinho Verde experts. They have the oldest vineyards in Vinho Verde - over 100 years old, capable of producing wines of incredibly concentrated flavour. With naturally low alcohol - just 10% - it's a seriously thirst-quenching, drinkable wine. Fresh. Zesty. Sherbety. It's a complete citrus-bomb, packed with lime and lemon flavours. With peachy, slightly floral aromas, it's absolutely perfect with fresh salads or lightly spiced seafood.
Mayu Carménère Appassimento 2017
Elqui Valley's the Chile's most extreme wine region - nearly 5000 meters above sea level on the Andean border with Argentina, it has 300 days of summer and such clear skies the valley's famous for observatories. It's a tough place to make wine - so it's no surprise that there's only one commercial winery here. Winemaker Giorgio Flessati's Italian roots have influenced not just the varieties they plant - Mauro Olivier makes a delicious Sangiovese - but also the way they make wine. This is Carménère, with a difference. It's the first appassimento Carménère in the world, made by leaving the grapes to dry on the vine until the flavours are more pronounced than ever. Black pepper. Plums. Figs. It's an incredibly black fruity and rich, with subtle sweetness from the dried grapes. Great with tagine.
| | |
| --- | --- |
| TYPE | Red |
| GRAPE | Carmenère |
| STYLE | Big Red |
| ABV | 14.5% |
| UNITS | 11.3 |
| COUNTRY | Chile |