PSHE and well-being
Statement of Intent
PSHE acknowledges and addresses the changes and challenges young people experience in society today and equips them with the knowledge, understanding and skills that enable them to live physically and mentally healthy lives. Our programme of study promotes the personal development of our students, highlighting key features of life in modern Britain and celebrates what we have in common, as well as promoting respect for the different protected characteristics, as defined in law.
Through our Self-Science lessons, students develop their character (courtesy, integrity, diligence, enthusiasm and resilience) and explore a variety of practical skills, which will equip them for life outside of school. PSHE lessons also provide students with a platform in which they are given the opportunity to reflect upon their personal beliefs and attitudes. In doing so, we promote British values, encouraging students to make informed decisions, which demonstrate their appreciation for diversity. Self-Science lessons also prepare students for future success and living in the wider world by promoting transferable skills through a carefully planned careers programme.
The aim of PSHE is to promote heathy relationships, encourage students to manage risks, appreciate that actions have consequences, develop financial literacy and become aware of the increasing influence of peers and the media. PSHE nurtures students into becoming responsible and respectful active citizens who contribute positively to society.
Miss A Hutchings (Director of Character Education and Student Leadership) email: ahutchings@gordons.school

pshe speakers/workshops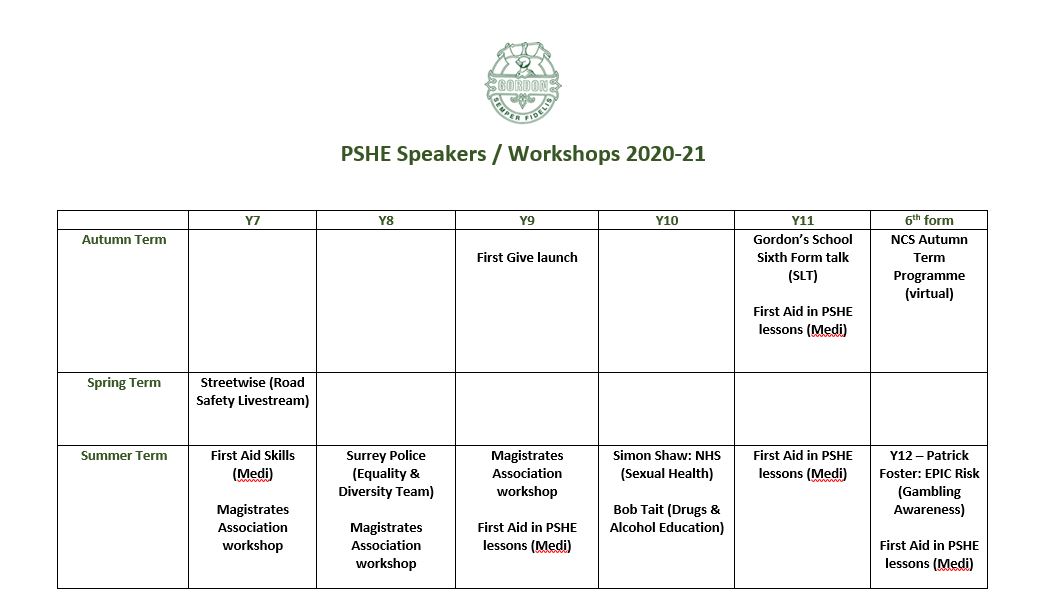 CHAPEL Summer 2021

| DATE | TOPIC |
| --- | --- |
| 19 April | HRH Prince Philip The Duke of Edinburgh |
| 26 April | Who do you say I am? |
| 3 May | Friendships/getting to know people |
| 10 May | Parable of the Talents - Eid ul Fitr |
| 17 May | Charity Prefects |
| 24 May | Time to be Quiet |
| 7 June | House Charity Opportunity |
| 14 June | Dance |
| 21 June | House Charity Opportunity |
| 28 June | Disciples and Teachers |
ASSEMBLY Summer 2021

| DATE | TOPIC |
| --- | --- |
| 19 April | Gordonians Week |
| 26 April | Exams |
| 10 May | Gordonians Week |
| 17 May | Volunteering Week |
| 24 May | Fearless Crime Reporting |
| 7 June | PSHE Parliamentary Talk/Earth Day |
| 14 June | Co-Curricular |
| 21 June | Diabetes Awareness |
| 28 June | E-Safety |
Surrey healthy schools GOLD award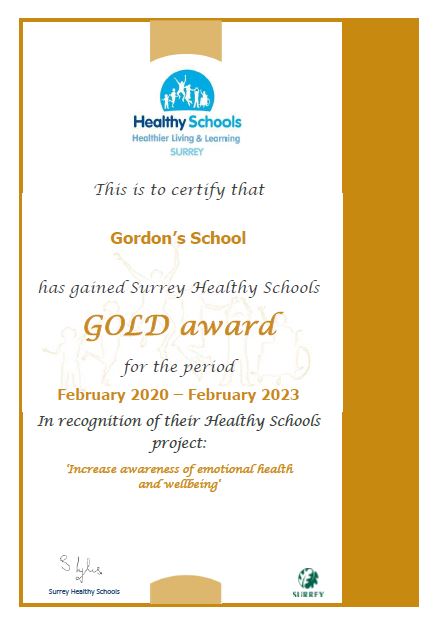 In 2020 Gordon's School achieved the Surrey Healthy Schools Gold Award, which recognises the provisions we have in place in order to support the physical and emotional development of both students, staff and wider community at school. The award structure focuses upon four key areas, including; PSHE, Physical Activity, Healthy Eating and Emotional Health and Wellbeing and we received great feedback on all areas of the award. We are currently working towards our Gold Healthy Schools Award.
Please click here for further information on the award.
To see the Safer Internet Day videos, click on links below:
Helpful Websites for parents
For children's mental health services please click here.
Drug and alcohol education

physical health

relationships and sex education

emotional health and wellbeing

financial capability