Visiting Artist: Petra Hall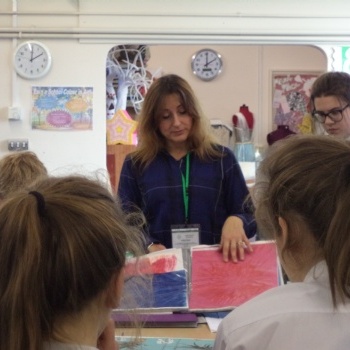 Art Department very pleased to welcome Surface Designer, Petra Hall
The Gordon's School Art Department were very pleased to welcome Surface Designer, Petra Hall, in January. Petra came in to meet and talk to a group of selected Year 8 pupils and the Year 10 GCSE Art pupils. With her sketch book, portfolio and some printed textile samples, Petra inspired the pupils as she talked about her work and the creative process of a textile designer. Gordon's Art pupils then went on to create, design and print their own designs and repeated patterns.
Here are some examples of their wonderful work following the visit. The designs below were created by Year 8 and Year 10 pupils:
Thank you once again to Petra Hall for sharing her knowledge and talent with the pupils and inspiring the creative minds of the future. Thank you Year 8 and Year 10 and congratulations on some wonderful textile designs.
Mrs Gibbs