Insight Talks
An opportunity to meet and listen to experienced professionals
In 2011 Gordon's School introduced an Insight Programme. The programme gave students, parents and staff the opportunity to meet and listen to experienced professionals and to have the opportunity to ask any questions. From this, we also begin another new programme consisting of professionals from different specialities giving talks about their experiences.
Quotes from attendees of previous talks:
"Thank you for arranging it. Different, novel, interesting and informative"
"It was a very enjoyable evening and both interesting and informative talk by the three gentlemen. I am sure that everyone that attended enjoyed the evening as much as I did"
"I've directed my children to several of these talks but this was the first I've attended. I was very impressed how it was set out and arranged"
Scheduled talks for this term are:
INSIGHT TALK - WHAT IS MEANS TO BE BRITISH - BARONESS WARSI
Tuesday 28th February at 6pm in the Chapel
Baroness Warsi - A lawyer, a businesswoman, a campaigner and a cabinet minister, Sayeeda Warsi has had many roles, but she is best known for being the first Muslim to serve in a British cabinet. In August 2014 she resigned from Government citing the Government's "morally indefensible" policy on Gaza. One of five girls born to immigrants of Pakistani origin in Dewsbury, West Yorkshire, Sayeeda studied law at Leeds University, going on to work for the Crown Prosecution Service before setting up her own legal practice.
Virtual Insight Talks
Our Virtual Insight Talks cover a range of interesting subjects and careers from a host of fascinating people and can be listened to as a Zoom Webinar or as a pre-recording. Webinars can be booked through the Box Office. Recordings of webinars will also be available on this page after the event.
Virtual Insight Talk with Nicholas Olsberg - 'Right About Face' : Building A Home for Gordon's Boys.
William Butterfield's buildings for the Gordon National Memorial Boys' Home, opened in stages between 1887 and 1894, still form the core of Gordon's School. They housed, fed, trained, taught and cared for a year-round residential community of 240 teenage boys, most retrieved from desperate circumstances in the slums and docklands of London, on a vast open campus. Though built with extraordinary economy, the Home -- with its officers' and trade instructors' quarters, dormitories, recreation rooms, library, classrooms, parade ground, workshops, gymnasium, pool, dining hall, bakery, kitchens, infirmary, and matron's house -- constitutes the most extensive and complex single work in the long career of this master architect. The talk will draw on the wealth of visitors' descriptions and pupils' accounts of the life and settings of the Home in its first years, including Emily Brodie's tale of 'Ben the Gordon Boy' from 1892 and pencil sketches from 1890 by the young children's illustrator Evelyn Stuart Hardy. We will see how Butterfield chose to evoke neither the forbidding and sometimes punitive grandeur of the typical Victorian institution nor the rough severity of the barracks but something gentler, rendering into disciplined form the scales, shapes and features of the market town, the cottage, the working farmyard, the suburban villa, and the rural parsonage -- open to light and fresh air and carrying into the ears of the lost boys of the city wharfs and streets an echo of 'home'.
Nicholas Olsberg, former director of the Canadian Centre for Architecture, is an historian and curator who has published extensively on nineteenth and twentieth century culture and architecture. He is currently completing a full-length study of the architect William Butterfield, to be published by Lund Humphries at the end of the year and entitled The Master Builder.
Breakfast with George Nash MBE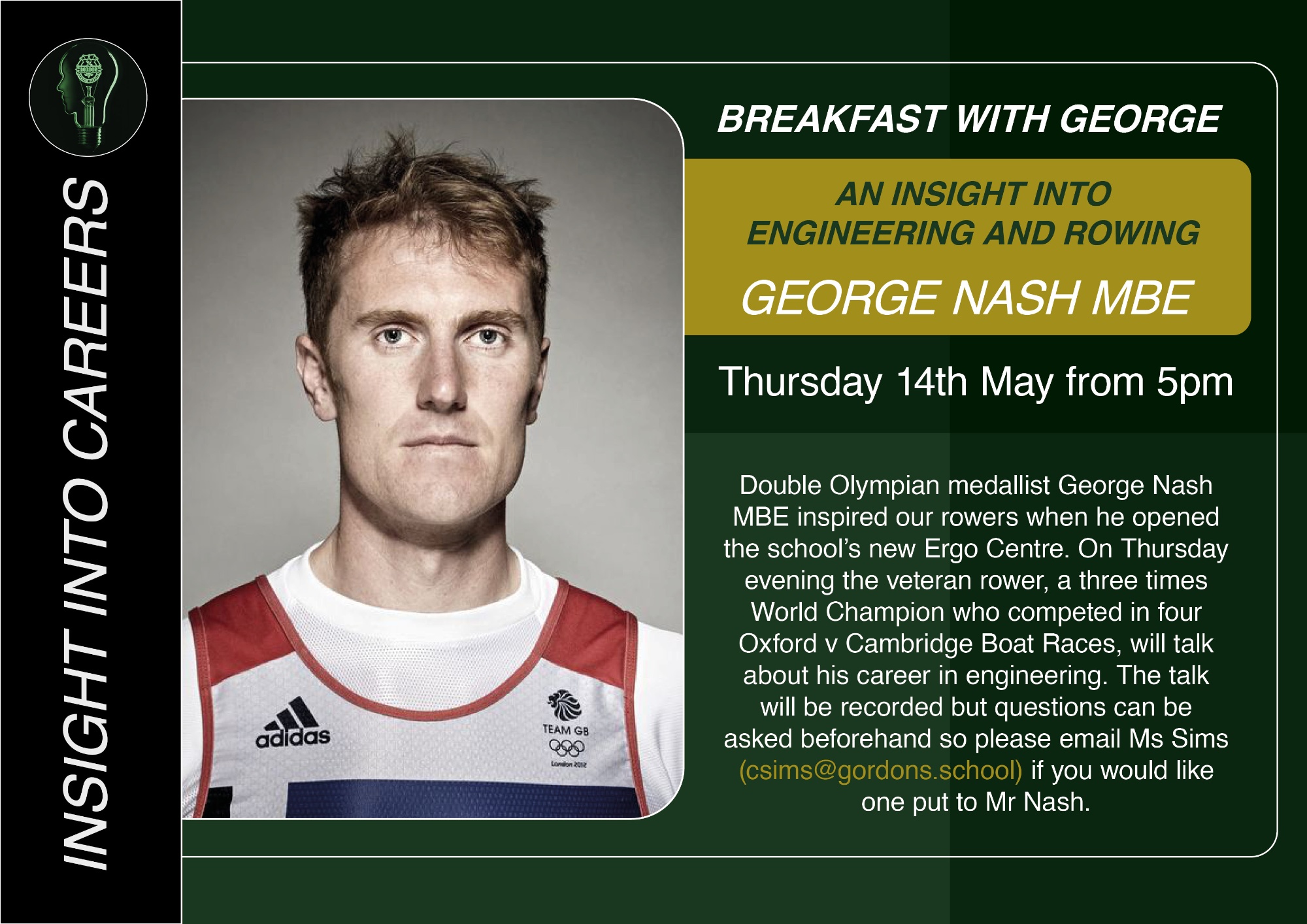 Double Olympian, three times World Champion and a veteran of four Oxford v Cambridge Boat Races, George Nash MBE talks about his life as a rower and career as an engineer.

George Nash MBE Insight Talk
Premiership Rugby by Hannah West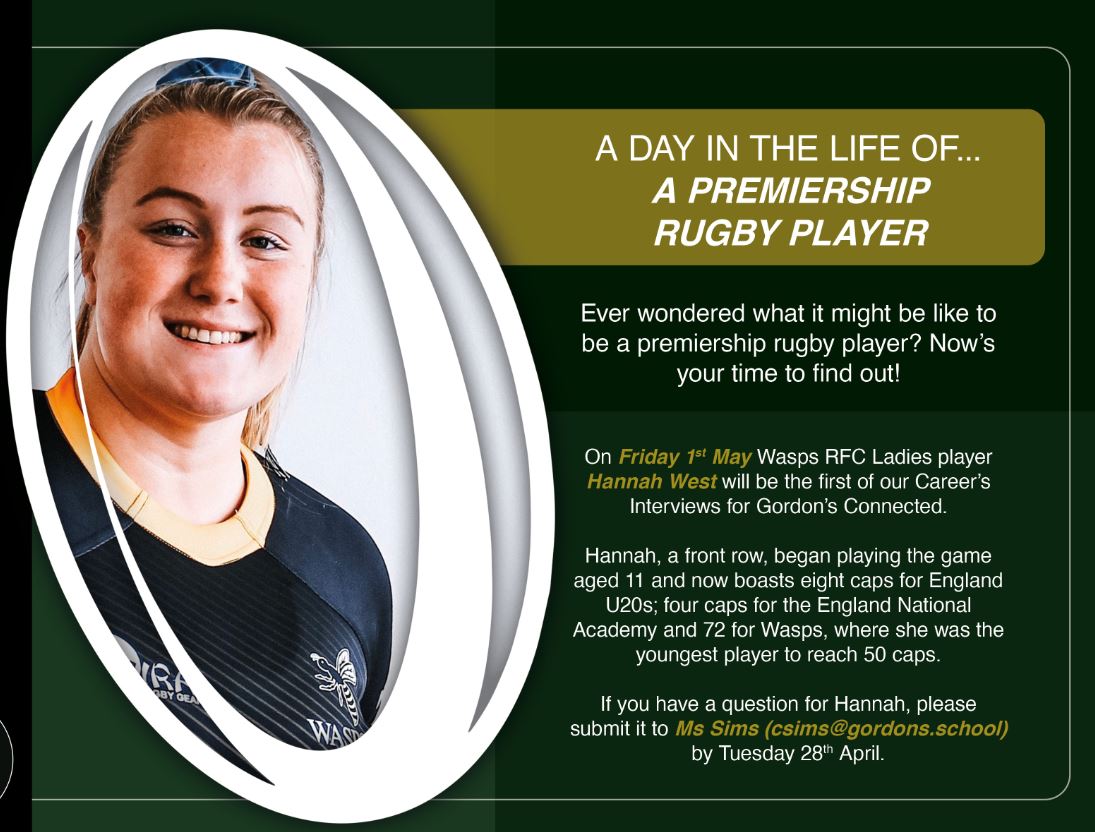 Kicking off our Virtual Insight into Careers Talk series on Friday 1st May with a Careers talk on the life of a premiership rugby player is Hannah West.
Insight Talks are free public events but we ask that you book your seat through the Box Office.