the sudan partnership
As Gordon's School established its partnership with the Khartoum International Community School (KICS) in 2017/18, in Khartoum, Sudan some our students started to ask if they could help people less fortunate than themselves living around the world. Their natural direction of focus was on Sudan and a student came forward with a proposal to help the existing charity the Women's Education Partnership. This student-led society has been a great success, as the Sudan Partnership Society organising a Christmas Market stall and fundraising by selling mistletoe and other goods. This money was used to buy English Grammar books that were taken to Khartoum by students and staff from the school. The Society presents a series of assemblies which in the past have highlighted the plight of many Sudanese individuals and raised awareness of human rights.
The Sudan Partnership Society is always looking for students to help with their next campaigns and hope to continue to support the Women's Education Partnership and Kids for Kids, by raising awareness, fundraising and organising resource collections. They will work with IB students at KICS in order to run their campaigns successfully.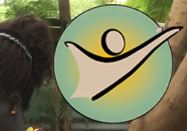 Click on the image to take you through to the Kids for Kids page