public speaking
Gordon's School hosted the inaugural year of the SBF Festival of Public Speaking, which took place at Gordon's School in 2018 and was co-hosted by the Royal Alexandra and Albert School. This was followed up a year later when Eddie the Eagle Edwards, the first competitor to represent Great Britain in the Olympic Ski Jumping for 50 years, landed as the Guest of Honour (see picture below).
Public speaking is a vital skill that students develop and use throughout their academic careers and in their everyday lives. Additionally, the impact that a confident and thoughtful speaker can have within classes and the wider school is invaluable.
The events are a whole-day affair comprising a series of rounds whereby students get the chance to demonstrate their speaking skills via prepared speeches on pre-agreed topics as well as on topics provided on the day. Most recent opics ranged from 'Is Temporary Insanity an Excuse for Murder' to 'The benefits of Introversion – Let's Celebrate the Difference' and the event in 2019 saw some 30 students giving individual prepared speeches and team presentations. A Deji won the Seniors Individual Prepared Speech Award.
Parallel individual Senior (Key Stage 5), Intermediate (Key Stage 4) and Junior (Key Stage 3) competitions will took place as well as a formal team competition. Schools enter multiple students or teams into each competition.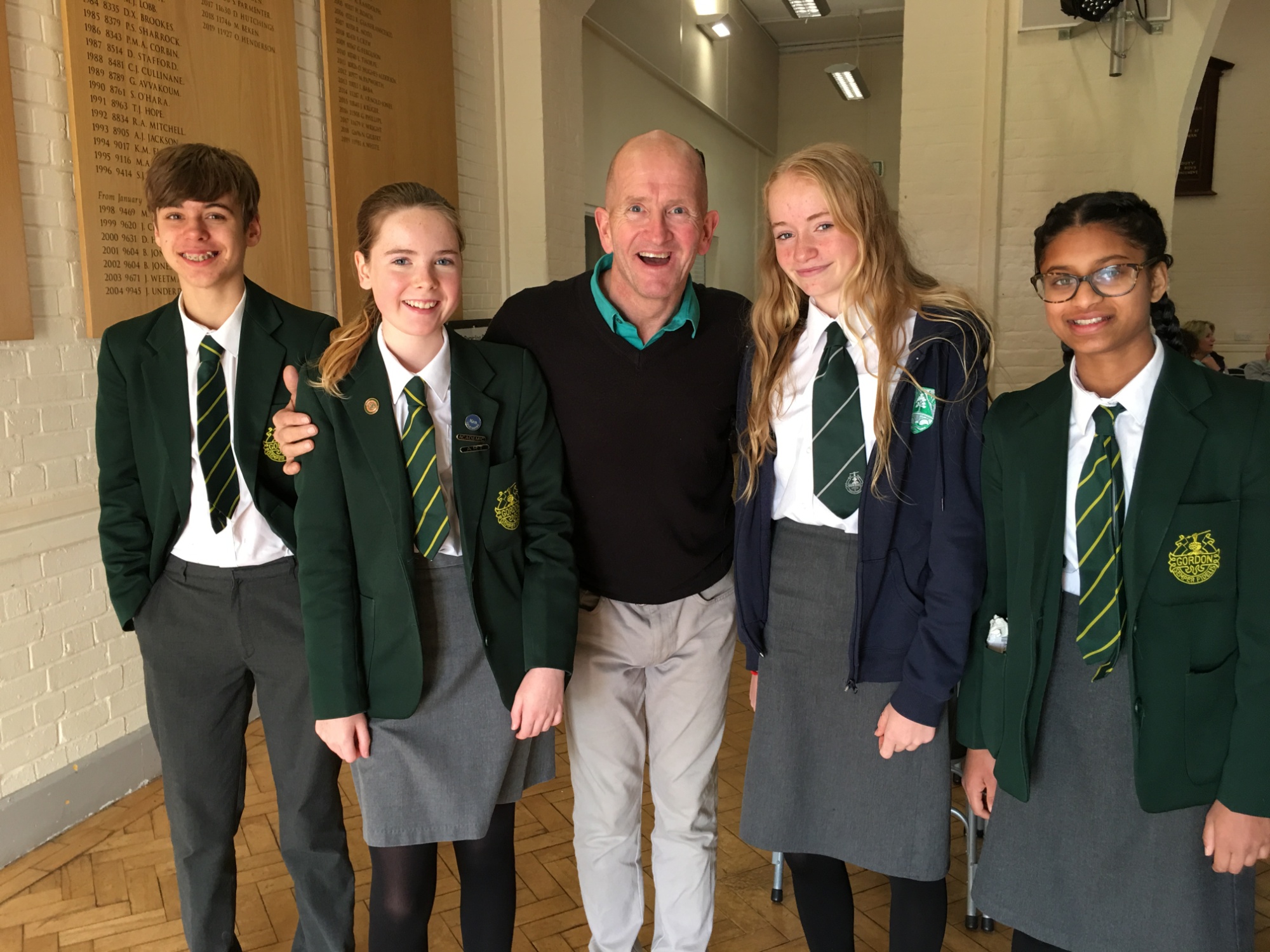 ESU Public Speaking Competition - January 2020
Three Year 10 students took part in the prestigious ESU-Churchill Public Speaking Competition in Godalming. The competition, sponsored by the International Churchill Society, is the largest such contest in England and Wales, with around 400 teams (each comprising a speaker, questioner and a chairperson). The different roles allow students to practise and excel in different skill sets, and the competition's unique format, which pairs the speaker from one school with the chair and questioner of another, encourages quick thinking and relationship building.
The Gordon's team were runners up with J Cave winning Best Questioner of the night.
SBF Public Speaking Competition 2018 - Winners, Gordon's School
Gordon's School students went head to head with the Royal Alexandra and Albert School and the Duke of York's Royal Military School in the SBF Public Speaking Competition 2018.
This was a hotly contested competition involving two rounds of speeches, one prepared and rehearsed and one on a topic completely unseen until 15 minutes before giving the speech- a real challenge of exceptional academic skills such as organisation, logic, ethos and pathos. This was also a real test of character skills as standing up in front of an audience and delivering a speech is no easy task and shows diligence and enthusiasm.
Topics from Gordon's students included 'is Trump really a bad thing?', 'The value of pickles' and 'a controversial take on feminism'.
In addition to this we also had a team enter into the formal competition. This was where a team of three presented a speech whilst engaging in clear protocol and courtesy. The topic was on 'What is love?' (not the 90s dance classic).
Results:
Formal Competition
Best Chairperson: S O'Smotherly (Duke of York's)
Best Vote of Thanks: G Keyes (Gordon's School)
Best Speaker: T Jasani (Gordon's School)
Winning Team: Gordon's School (O Henderson, G Keyes, T Jasani)
Individual Comnpetition
Junior Winner: L Cotton (Royal Alexandra and Albert School)
Intermediate Winner: G Keyes (Gordon's School)
Senior Winner: L Pell (Gordon's School)
Overall Winning School: Gordon's School
Other Recent Successes
Arête Inter-School debating competition – Winners, Gordon's School
Oxford Schools debating competition- Entered and attended the regional round for the first time
2018 English-Speaking Union (ESU) District Finalists
DISTRICT HEAT
WINNERS: GORDON'S SCHOOL
BEST SPEAKER: GORDON'S SCHOOL
BEST CHAIR GORDON'S SCHOOL
BEST QUESTIONNER: GORDON'S SCHOOL
DISTRICT FINAL
BEST SPEAKER: T Jasani, GORDON'S SCHOOL