public speaking
ESU Public Speaking Competition
Gordon's is a regular competitor at the English Speaking Union competitions including the prestigious ESU-Churchill Public Speaking Competition. The competition, sponsored by the International Churchill Society, is the largest such contest in England and Wales, with around 400 teams (each comprising a speaker, questioner and a chairperson). The different roles allow students to practise and excel in different skill sets, and the competition's unique format, which pairs the speaker from one school with the chair and questioner of another, encourages quick thinking and relationship building.
In 2021, students entered two teams from Years 9 and 11 for the Public Speaking and Shakespeare Performance categories.
The Year 11 group (pictured below) spoke their way to the finals after an excellent speech by C Franklin about whether schools are doing enough to promote contraception in school. One of the judges described her as their favourite speaker of the night, especially picking such a hard topic. C Falconer did an excellent job of chairing the speech and hosting questions from the audience and N Schollick gained the prize for best questioner of the night. The Year 9 group successfully made it to the regional heats of this national competition and the one for this academic year is eagerly awaited.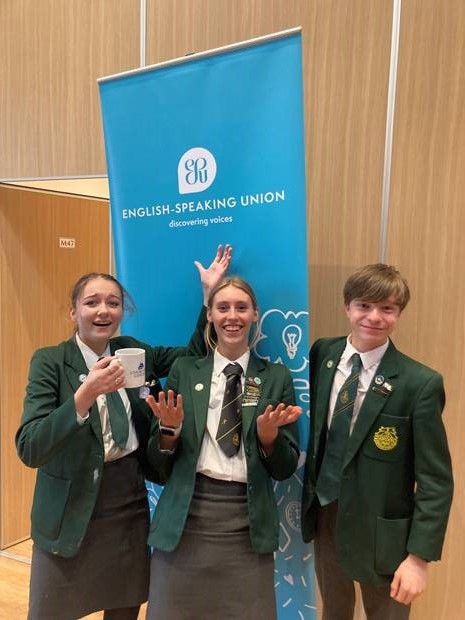 Gordon's School co-hosted the inaugural year of the SBF (State Boarding Forum) Festival of Public Speaking in 2018 with Royal Alexandra and Albert School. This was followed up a year later when Eddie the Eagle Edwards, the first competitor to represent Great Britain in the Olympic Ski Jumping for 50 years, landed as the Guest of Honour (see picture below).
Public speaking is a vital skill that students develop and use throughout their academic careers and in their everyday lives. Additionally, the impact that a confident and thoughtful speaker can have within classes and the wider school is invaluable.
The events are a whole-day affair comprising a series of rounds whereby students get the chance to demonstrate their speaking skills via prepared speeches on pre-agreed topics as well as on topics provided on the day. Most recent topics ranged from 'Is Temporary Insanity an Excuse for Murder' to 'The benefits of Introversion – Let's Celebrate the Difference' and the event in 2019 saw some 30 students giving individual prepared speeches and team presentations. A Deji won the Seniors Individual Prepared Speech Award.
Parallel individual Senior (Key Stage 5), Intermediate (Key Stage 4) and Junior (Key Stage 3) competitions took place as well as a formal team competition. Schools enter multiple students or teams into each competition.