Post-18
Destinations Summary
| | | | | | | |
| --- | --- | --- | --- | --- | --- | --- |
| Year and total of students who applied to university | Russell Group | Top 200 | First Choice | Insurance | Clearing | Number of known apprenticeships |
| 2016 = 83 | 60% | 84% | 18% | 71% | 9% | 0 |
| 2017 = 85 | 51% | 59% | 69% | 17% | 8% | 2 |
| 2018 = 109 | 54% | 59% | 89% | 7% | 5% | 2 |
| 2019 = 107 | 39% | 94% | 71% | 9% | 17% | 4 |
| 2020 = 118 | 49% | 97% | 80% | 11% | 11% | 1 |
| 2021 = 135 | 57% | 66% | 78% | 11% | 10% | 2 |
| 2022 = 139 | 45% | 46% | 83% | 5% | 13% | 7 |
The Post-18 Preparation journey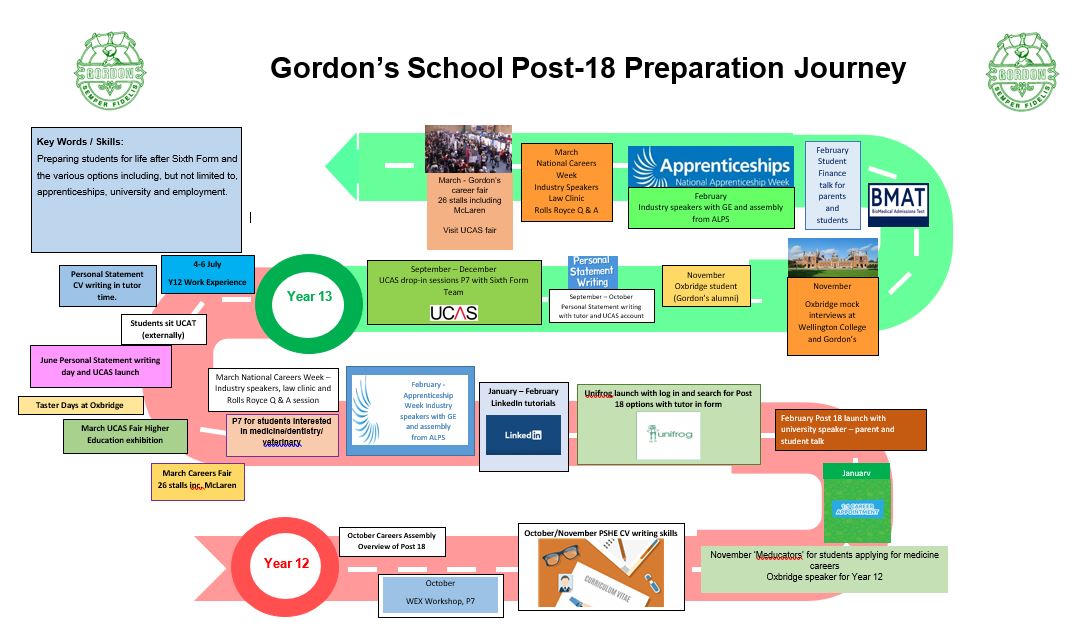 Destinations Summary
| | | | | | |
| --- | --- | --- | --- | --- | --- |
| Year and total of students who applied to university | RG | Top 200 | First Choice | Insurance | Clearing |
| 2016 = 83 | 60% | 84% | 18% | 71% | 9% |
| 2017 = 85 | 51% | 59% | 69% | 17% | 8% |
| 2018 = 109 | 54% | 59% | 89% | 7% | 5% |
| 2019 = 107 | 39% | 94% | 71% | 9% | 17% |
| 2020 = 118 | 49% | 97% | 80% | 11% | 11% |
| 2021 = 135 | 57% | 66% | 78% | 11% | 10% |
| 2022 = 139 | 45% | 46% | 83% | 5% | 13% |
As a part of Gordon's Sixth Form intent to prepare students effectively for the next steps in life, we begin the post-18 preparation formally in the second term of Year 12. Speakers from universities are invited to address both parents and students about aspects of the application process and various options available to students. Speakers informing students of vocational alternatives such as apprenticeships, are also part of this launch. Unifrog forms a central component of post-18 preparation process in Year 12 as students use this as a vehicle for researching courses at universities as well as apprenticeships. In the Summer Term of Year 12 the second phase commences with the focus on the personal statement. This is a key part of the application to university process. Again, various university speakers are invited to guide students and parents on effective personal statement writing. The personal statement is finalised in early in Year 13 and all applications are sent off before Christmas. The process above is supported by tutor guidance, speakers, workshops and Period 7 sessions which offer personal and targetted support to students. The map above provides an overview of the journey. Separate application processes exist for medicine and Oxbridge students.
Oxbridge
During the first and second term of Year 12, students are briefed on the requirements for Oxbridge and Medicine and discussion sessions begin around extra reading. Visiting speakers form an important part of the programme and students are encouraged to attend the Oxford Study Days in March and the Cambridge Open Day in July. Application for the Eton Summer School is also encouraged. Heads of Department play an important role in identifying and supporting the potential candidates academically.
From June of Year 12, students are given support and guidance with their personal statements and help completing the UCAS form to meet the early deadline of 15th October. A rigorous schedule of practice interviews, with a variety of interviewers both from Gordon's and outside, ensures candidates are well prepared for this part of the process. Recently we have linked up with schools such as Wellington College to broaden interview provision.
Careers
Gordon's School offers Sixth Form students a comprehensive careers programme to prepare for Post-18 progression.
This includes:
Industry speakers: guest speakers from a range of professions such as barristers, architects, occupational psychologists, to name just a few, provide insight into their professions and their journey towards it.
One to one meeting with our dedicated careers advisor.
How to 'sell themselves' and get the job they want through their CV and interview, by Paul Holmes, an expert in life skills for Sixth Form and beyond.
A series of three HE evening presentations to parents and students with visiting university and apprenticeships speakers.
Personal statement writing day.
Insight talks: a lecture programme to stimulate intellectual curiosity and offer insight into a range of topics, with high profile and prominent speakers who are experts in their fields. One of our past guests was Jeremy Paxman.
Russell Group Universities
Please click here for more information.
Student Finance
For information and to apply, visit https://www.gov.uk/student-finance
University Entrance
We provide extensive guidance and support to students making higher education choices. This includes one to one tutor sessions, one to one appointments with the careers advisor as well as visits to UCAS fairs. There is also a Post -18 day where students write personal statements, and attend a choice of talks from apprenticeship companies, gap year companies and a talk from an international university advisor. We invite a range of universities to talk on our information evenings for students and parents across the academic year.
Mock interviews are organised to prepare students for university entrance interviews.
Specialised Medic and Oxbridge support is embedded into the programme by Mrs Wright.
Please click here for Blackstone Tutors Medicine MMI Interview Questions and Answers.
Please click here for Blackstone Tutors Medical School Interview Questions.