LEADERSHIP & SERVICE
"Good leaders must first become good servants"
Robert K Greenleaf (author of Servant Leadership)
Leadership, whether leading oneself or others, is about making things happen that otherwise would not. It is about getting the best out of oneself and helping other people to do the same.
All students are encouraged to take on responsibilities and contribute to Gordon's life through our extensive opportunities in volunteering and service. As well as helping to build confidence, these opportunities cultivate the character strengths of courtesy, integrity, diligence, enthusiasm and resilience which underpin the school ethos.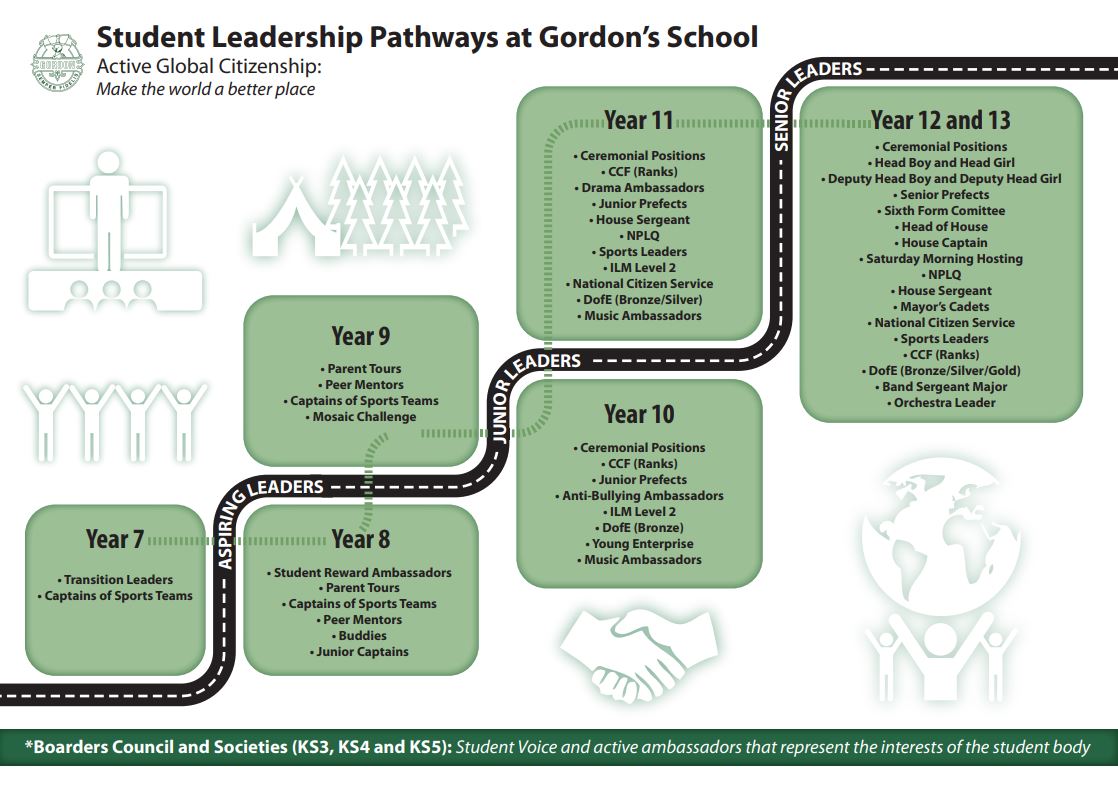 Overview
Leadership posts are appointed in the Autumn Term and usually run from January to January.
All candidates are interviewed and the successful post-holders are expected to serve not just the House but the School, including playing for School teams if selected. To be eligible to apply for positions of responsibility, Sixth Form students must be active members of the School community, including taking part in co-curricular activities.
Senior Student Posts

| | |
| --- | --- |
| Head Girl | E Evans |
| Head Boy | C Keigher |
| Deputy Head Girl | C Carr |
| Deputy Head Boy | A Cornwall |
| Pipe Major | L Massie |
| Drum Major | W Perera |
School Sergeant Major
I Fleming
Colour Sergeant
I Wilson


Ceremonial Senior Prefects

H Chedd
H Ellahi


Pastoral Senior Prefects

F Shokunbi
A Virtue
R Murrell
T Kirkhope
A Mian
H Ben-Gashir
J Mills
F Compson






M Prince
S Dyne
E Ibiama
S Rose
H Salim
J McKechnie
E Cheng
Charity Senior Prefects
| | |
| --- | --- |
| J Cave | H Harris |
| D Erol | J Sempala-Ntege |
| E Harmer | A Pande |
| M Weiss | |

Development Office Senior Prefects
| | |
| --- | --- |
| M Chauhan | C Lowe |
| P Daniel | L Scott |
| S Jones | |

Online Safety Senior Prefects
| | |
| --- | --- |
| N Mensah | G Sherchan |
| R Parsons | M Subhan |
| D Gomina | |
JUNIOR PREFECTS

| | | | | | | | | | |
| --- | --- | --- | --- | --- | --- | --- | --- | --- | --- |
| Augusta | Balmoral | Buckingham | China | Gravesend | Kensington | Khartoum | Sandringham | Victoria | Windsor |
| S Pun | A Foreman | M Bin Tarif | M Everett | T Allen | J Robinson | W Forster | R Rowe | N Gregory | M Clement |
| A Ambrose | S Ghotane | K Ben Gashir | E Evans | H Wynne | E Richardson | N Hewson | W Bowe | I Kerr | M Brock |
| M Goate | P Sherpa | L Robinson | A Barai | F Johnson | E Griffiths | C Chapman | L D Scantelbury | I Miles | E Spacie |
| L Alcock | T Tamang | A Mills | N Tullett | A Balashanker | I Lees | L Rowe | A Lawrence | T Cooper | E Kelly |
student governors

Our Student Governors comprises Key Stage 4 and Key Stage 5 students, who represent each House. Meetings occur once a term and the agenda includes a report from the Boarders', Academic and Co-Curricular Councils, as well as a report from each society. Student Governors are also given the opportunity to discuss whole school matters. The Student Governing Body is invited to 'sense check' and ratify decisions made at Council meetings and ask for matters to be taken back to the retrospective Councils for further discussion. The minutes are shared at the School Governor meeting, typically held the same day.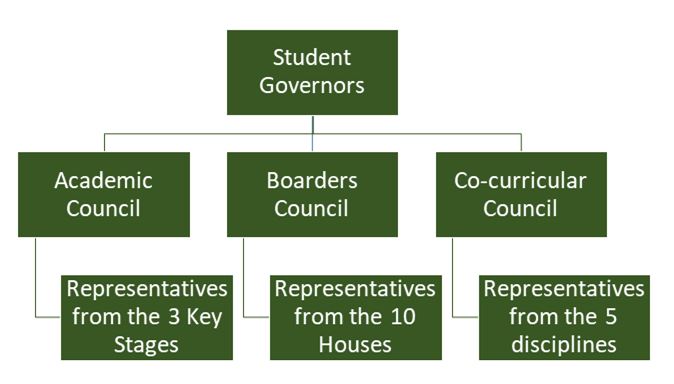 Student Heads of houses

| | |
| --- | --- |
| F Shokunbi | Augusta |
| J Sempala-Ntege | Balmoral |
| G Peaurt | Buckingham |
| A Wyatt | China |
| M Prince | Gravesend |
| L Kaye | Kensington |
| A Cornwall | Khartoum |
| D Gomina | Sandringham |
| L Scott | Victoria |
| E Cheng | Windsor |
| N Teeton /P Gurung | Woolwich |
Activities linked with qualifications and training
CCF and DofE Adventurous Training Opportunities
Please click here to read about adventurous training opportunities with CCF. (Year 11-Year 13) Non-Commissioned Officer Training occurs during P7. Once trained, NCOs can assist with Year 10 CCF activities, Army Camp and P7 shooting.
Students who complete their Gold DofE can assist in training and expeditions for the Bronze and Silver awards. See Mr Fox/Major Balmer for further information.
National Citizen Service
"National Citizen Service (NCS) is a way for 15 to 17 year olds living in England, Wales and Northern Ireland to make extraordinary friendships, learn the skills they don't teach in class, and create unforgettable memories."
Visit www.ncsyes.co.uk for more information.
Coaching and refereeing courses
At Gordon's we aim to increase the number of opportunities available for students to gain experience and accredited qualifications in sport. Students will be kept informed of any opportunities through the Heads of Sport.

Currently, students in Year 10 and above can complete a two-day Rugby Refereeing course (paid for by the school) which allows them to referee school matches, whilst being mentored by Mr Matthews. Once qualified, officials will be given a 'kit' to fulfil their duties and Year 12 and 13 students can put this activity towards their volunteering hours for the school.

Those interested in taking part should contact Mr Matthews and ensure they sign up for Rugby Referees as one of their P7 choices.
Active Surrey
A number of students have the opportunity to lead and assist with local competition for primary and secondary schools, through our links with Active Surrey and the Surrey School Games. These opportunities are often open to students studying GCSE PE, but on occasions students from other year groups may be requested. Students receive some training prior to competitions which include activities such as TAG Rugby, Hockey Quicksticks, Kwik Cricket, Tri Golf, mini Tennis, and Basketball.

Students will be notified by the PE Department when opportunities arise.
Sports Leaders
Year 11 and Year 12 students in their core PE lesson have the option to complete a Level 2 Sports Leadership Award. This is a nationally recognised qualification through Sports Leaders UK which prepares students for leading a sports activity under direct supervision. The syllabus is designed to develop generic leadership skills that can be applied to a variety of sporting situations, as well as contributing to the personal development of the individual. Sports leaders are required to complete ten hours of voluntary service, demonstrating their ability to lead others in sport sessions, in addition to attending their weekly lessons. Ultimately, we aim to prepare responsible, motivated and confident people who can lead safe, purposeful and enjoyable sporting activities.

How to get involved:
Sign up for 'Sports Leaders' as your PE option choice for the Autumn and Spring terms.