Harlequins Partnership Programmes
Congratulations to Caleb Ashworth and Tom Golder, who left Gordon's with contracts for Harlequins Academy. The two, who were amongst the first five to join the DiSE (Diploma in Sporting Excellence Programme) under the school's partnership with Harlequins joined the West London club's senior squad in September 2022. They have since been selected to play for their country, Caleb for England and Tom for Wales.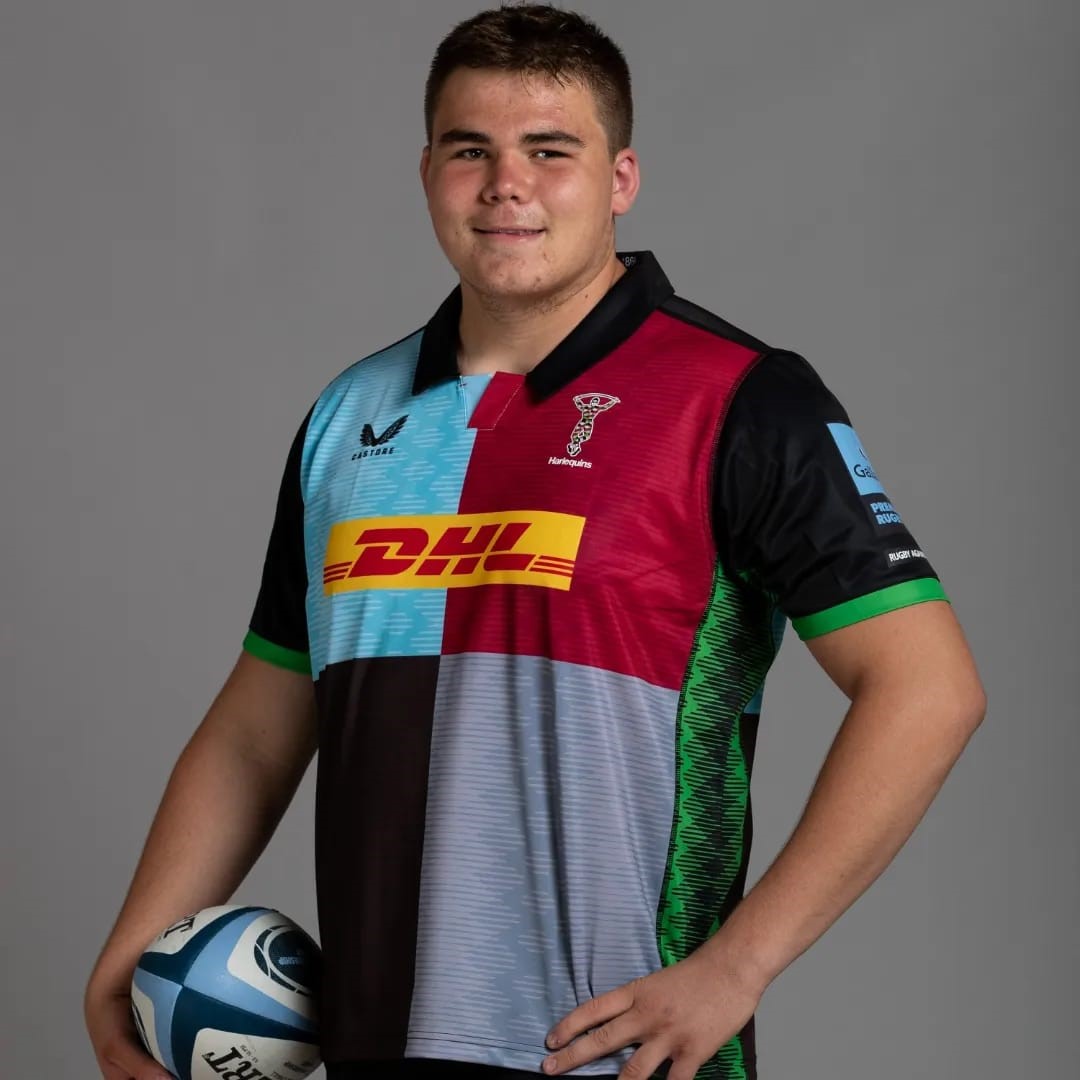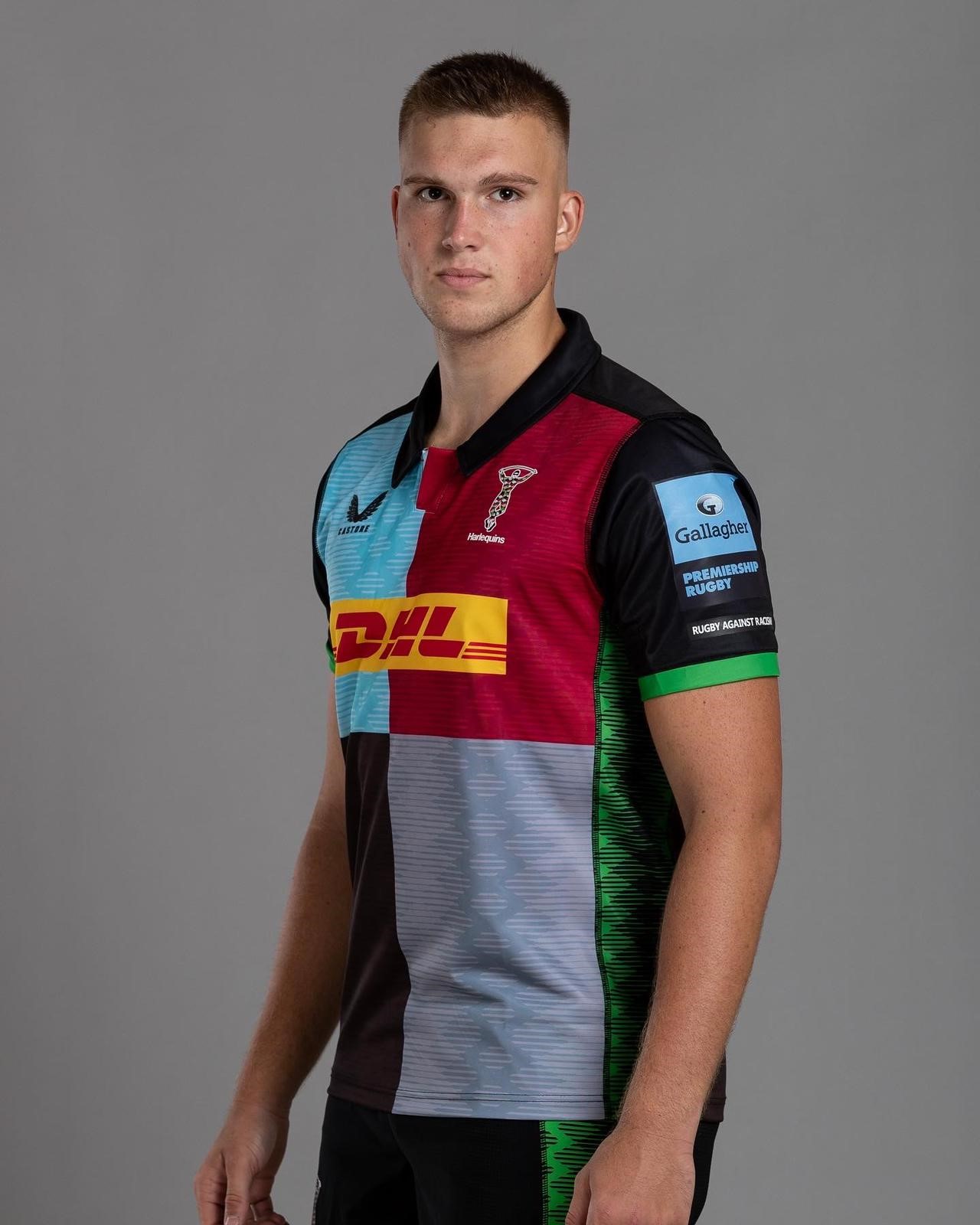 Study, train and play rugby within the Gordon's/Harlequins Partnership programmes.
1) DISE Programme
The DiSE programme (Diploma in Sporting Excellence), which is open to 16 to 18 year olds, provides a pathway to a career in rugby, offering an opportunity to train in a professional rugby environment and compete in the RFU ACE league, while receiving a first class education. There are approximately six places offered under this programme. (For other rugby opportunities, please see below section on HPP)
Talented players will benefit from specialised coaching and matches from Premiership and Internationally-experienced coaches, access to the on-site gym, strength and conditioning and holistic support.
What You Will Learn
DiSE students will study three A Levels or BTECs alongside the Diploma in Sporting Excellence.
Diploma in Sporting Excellence (DiSE)
This is a RFU-endorsed two year rugby programme for 16–18-year-olds based at the England Regional Academies. The aim is to produce players who:
have developed the skills and abilities to gain a professional contract at 18
are aware of their rights and responsibilities as professional players (lifestyle, image, behaviour etc.)
know how to manage their finances
have a contingency plan for an alternative career in the event of injury or failure to achieve a playing contract
Rugby and Academic Schedule
In addition to academic lessons, students on the DiSE Programme will have a practical rugby schedule supported on modules designed by sports professionals. Each module will develop a specific facet of the game, including the student's game, understanding, mental and physical preparation and recovery.
As a member of the DiSE squad, a typical week will include:
Timetabled academic lessons
Twelve hours of contact time plus one DiSE match day
Strength and conditioning and prehab sessions
Units/Team Rugby and analysis sessions
Additional sessions where appropriate
Students will also have the opportunity to compete in the highly competitive RFU ACE League, a widely-renowned competition at the highest level of college/school sport.
How You Will Learn
The course is designed to mirror that of a professional environment. Students will have regular access to professional services to help improve their abilities as a player, as well as group and one-to-one coaching support.
The DiSE Group is comprised of the top players within the school's Rugby programme. As the squad competes at a very high level, applicants are expected to be capable of playing to at least county standard.
The experienced DiSE staffing team, includes:
Gordon's Head Coach/Programme Manager
Assistant Coach
Harlequins Specialist Coaches
Harlequins Academy Strength and Conditioning staff
Harlequins Academy Physiotherapists
Harlequins Academy Analysis Support
Support services during the programme will, include an analysis platform, access to medical staff on training days, meetings with coaching staff, and a Pastoral Lead to review academic progress.
2) Harlequins Partnership Programme (HPP)
In addition to our DiSE programme and as we require a large squad to play in the ACE league, we also offer the Harlequins Partnership Programme. These students have the same training as the DiSE players however they do not study the Diploma in Sporting Excellence. Being part of the HPP does not automatically gain selection for ACE League games but provides the opportunity for players to excel under high quality coaching and individual support.
Entry Requirements for DISE and HPP
The programmes are for students aged 16–18 only.
Applications will be judged on abilities as a rugby player, as well as academic merits.
Players will be assessed on their experience; rugby CV and performances. Academically, they should expect to meet the minimum requirements to join Gordon's Sixth Form:
A minimum of five GCSE grades 9 - 5 including grade 5 in GCSE English and Mathematics for any A-Level course, or a minimum of five GCSE grades 9-4 including English and Mathematics for a BTEC course and the grade criteria for individual subjects as outlined in the Options Booklet.
While it is understood that the passion and focus may be on the rugby programme, students will be expected to prioritise their academic studies.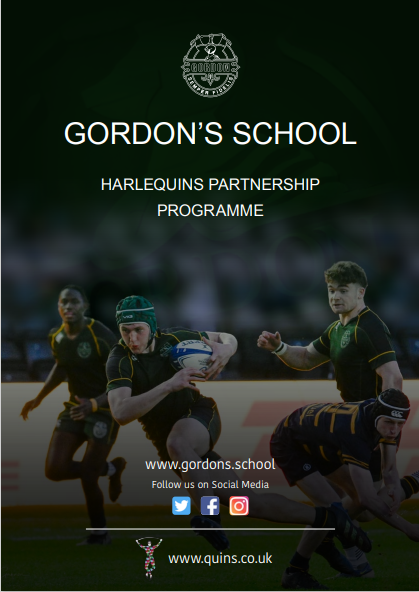 How to Apply
To apply to Gordon's Sixth Form - entry September 2024, please complete an application form found on our admissions page no later than 24th November 2023
We will be holding a Rugby assessment morning on Thursday 26th October 2023 (10am - 1pm ) for applicants wishing to be part of the Harlequins Partnership Programme in Gordon's Sixth Form.
Following this day there will be a second assessment for shortlisted students on the evening of 29th November 2023.