HOME-SCHOOL SUMMER TERM PROGRAMME
​​The video below gives an overview of the Home-School Summer Term Programme
Please see suggested daily schedule below for the Year 7 to Year 13 Home-School Programme outline.
All students are encouraged to follow their normal timetable and complete 40 minutes of work each period. However, we understand that this may not always be possible so as much flexibility as possible has been built into the programme.
The 6pm post is intended as a family moment. Please click on the image below for the Home-School Programme outline.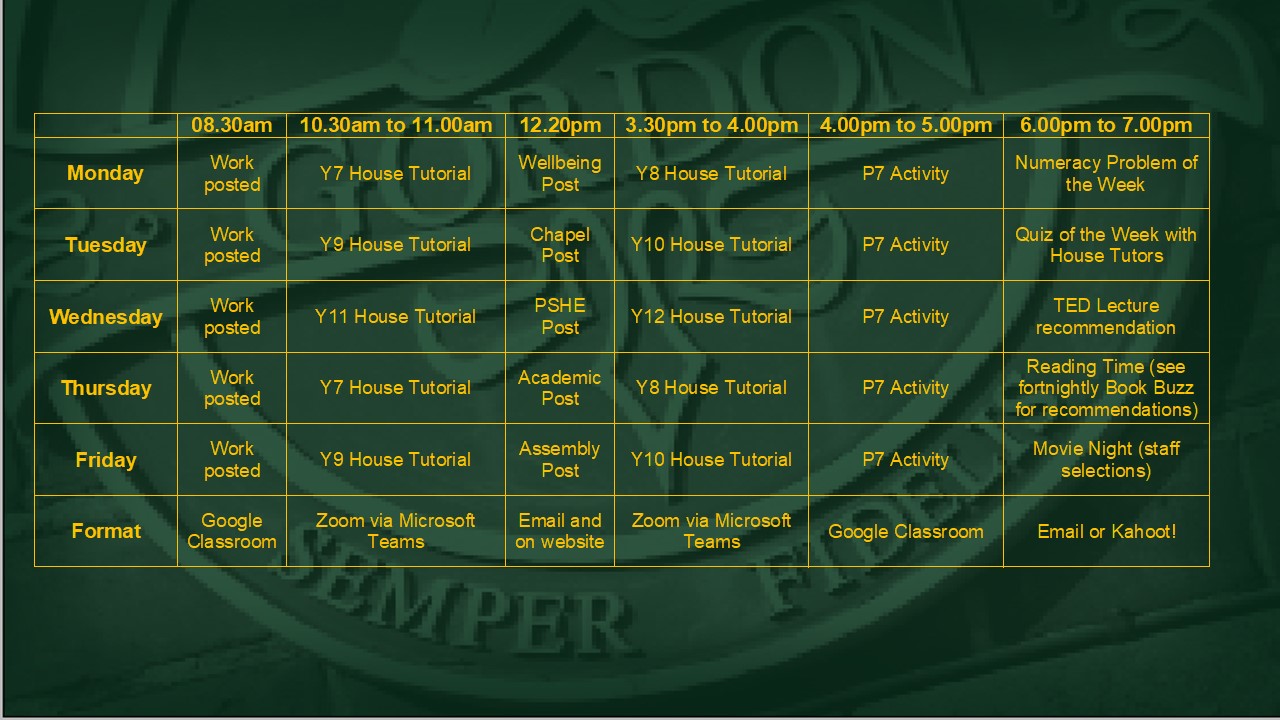 ZOOM QUESTION AND ANSWER SESSION SCHEDULE
Please click below for the weekly schedules of our Q&A sessions for individual subjects.
Week Commencing: 27th April
Week Commencing: 4th May
Week Commencing: 11th May
Week Commencing: 18th May
Week Commencing: 1st June.
Week Commencing: 8th June.
Week Commencing: 15th June.
Week Commencing: 22nd June.
Week Commencing: 29th June.
These Q&A sessions are designed to offer students an opportunity to connect with their teachers in a more immediate and interactive way than can be achieved using Google Classroom, they are not a teaching opportunity, however, and work from staff will continue to be set through Google Classroom in the usual way.
Students will be able to access a session with their teacher in Key Stage groups and will be able to ask questions, clarify instructions and check understanding. The sessions will run as follows:
The Core subjects of English and Maths will offer sessions to Key Stages 3 and 4 once a week, and KS5 fortnightly.
Non-Core subjects like History and Languages will be fortnightly at KS3, KS4 and KS5.
Subjects which usually only have one lesson per week at KS3 such as RE, Art etc, will offer sessions every three weeks (every three lessons). At KS4 and KS5 these subjects will offer sessions fortnightly just like all other options subjects.
Students will find the access details for their Zoom session on their individual Google Classroom 'wall' or staff will email them directly; the same access details should be used for each session in the coming weeks.