GORDON'S HONOURS PROGRAMME
OVERVIEW
The Gordon's Honours Programme seeks to promote and capture good character and moral and civic virtues, rewarding service and personal leadership through the voluntary involvement of students in going the extra mile, giving more than is expected in a diverse range of activities in and outside the school.
The Honours Programme helps students develop personal responsibility and be able to exercise it in worthwhile ways, to be rounded individuals, and fine examples of the character qualities we seek to nurture in all our students regardless of talent.
For more information please contact the programme co-ordinator Mrs Nathalie Webb – nwebb@gordons.school
HOW IT WORKS
Year 7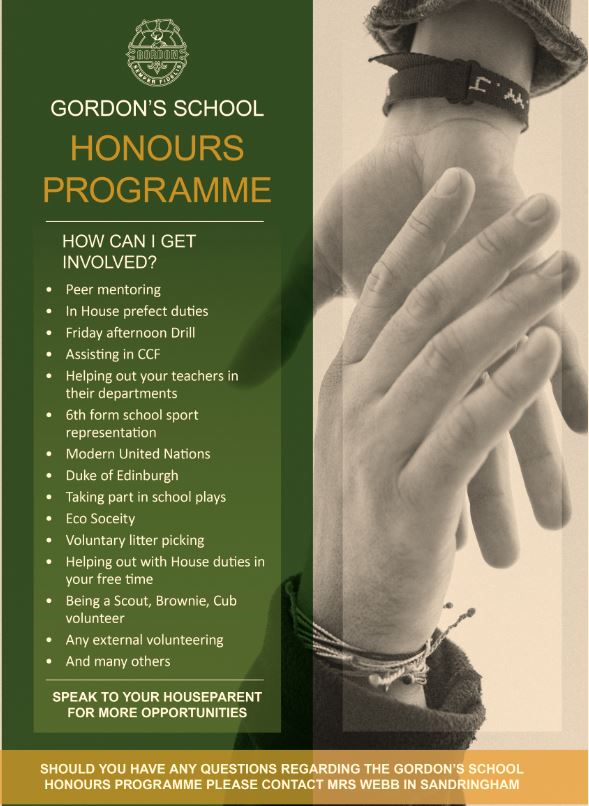 To introduce Y7 to Gordon's and to help them to know the school and each other better, we reward students who participate and complete a minimum number of 'bucket list' experiences in their first year such as, attend Y7 Camp or display their art work on a Parade Sunday in the Dining Hall.
Year 8-11
The new Honours Programme for the majority of main school students will be based on a points system. All students start on 1885 and receive + or – points, depending on their behaviour, service and participation. Students gain points for actions that go above and beyond what is expected, for example, fundraising or taking part in a school production. Students lose points for poor behaviour in class, non-attendance, for example, at Period 7, a Parade or sports fixtures.
Year 12-13
The programme for the Sixth Form remains focused on service and participation. Unlike main school students, Y12-13 are encouraged, but not required, to participate in fixtures and other activities so in addition to voluntary service we recognise students who give up their time to represent the school or House in sport or other co-curricular activities such as, Model United Nations, school productions, parades or the Pipes & Drums
Rewards
There are an array of rewards depending on the year, from badges and ties, to Blues stripes and financial grants.