Co-Curricular
Co-curricular statement of intent
The aim of our co-curricular programme is to open minds, develop leadership and service, foster well-being and deliver excellence.
The aim of any successful school must be to develop the whole person as well as stretching them academically.
For this reason, sport and co-curricular activities have always been very important at Gordon's, which is why we offer an extensive range of traditional team games, and competitive and recreational activities as a vital part of the Gordon's curriculum. Gordon's expansive curriculum has been designed to equip young people with the skills, knowledge and qualities they need for work and life. What they do in the classroom will gain students' their first job, or place at university; but it is the character acquired on the games' field, or in the School orchestra which will sustain them through life.
We also place great emphasis on our outdoor pursuits programme encouraging students to participate in our extremely successful Duke of Edinburgh's Award Scheme, giving them the opportunity of visiting numerous countries worldwide.
Over 128 co-curricular activities, ranging from sport to academic to hobbies are offered to students before school, during lunch, Period 7, 5pm and Saturday Morning School (please click on image for the full list). Students sign up for these activities using their SOCS account. Please note that activities will only run if there are enough students opting for them to make them viable. Certain activities have a limit on numbers for safety reasons and in cases where the activity is full, students will have to opt for an alternative. If you have any queries regarding your child's choice of activities please contact: Mrs J Warner - jwarner@gordons.school.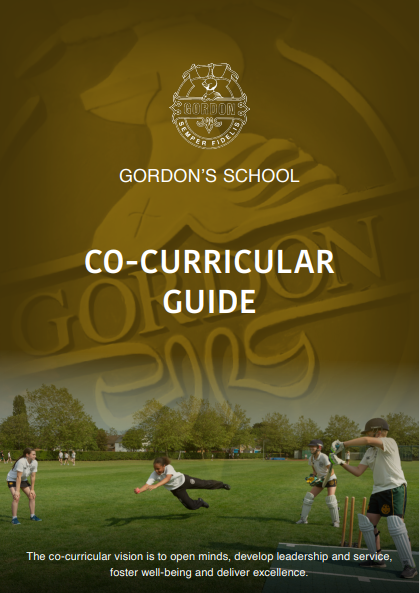 Please click on the tiles below for the individual Co-Curricular activities