Aims and ethos
More than the best possible examination results, a thorough preparation for life.
Our aim is to develop rounded world-class, world citizens with the character, capabilities and confident humility to achieve well, to stay active, to appreciate what they have and to connect and give back to the communities in which they live and work. Such students lead happier lives.
We believe:
In modern ideas alongside traditional values;
In a broad and balanced curriculum that promotes an academic and active life where students are immersed in a diverse range of activities and are able to discover and develop their talents and interests to the highest possible standard. Developing the knowledge, skills, attributes and behaviours necessary for success;
In Gordon's principally as a centre for teaching and learning based on high standards and expectations, where students of all abilities learn, students enjoy learning and teachers enjoy teaching;
In a House system and a disciplined environment without shortcuts as the best way to guarantee outstanding pastoral and academic care;
That high performance without good character is not true success at all.
Vision Statement - 'better me, better world'
Our vision is for the National Memorial to General Gordon to be a force for a more caring and just world: a world in which inequality in opportunities is diminishing; where individuals are treated similarly and have equal chances based not on privilege, but on how hard they work for themselves and others. For Gordon's to be more than a school, but a symbol of what can be achieved by a community where all work hard to be the best they can be. A community united in making an outstanding contribution to the lives of others, through its educational leadership and through the lives Gordonians go on to lead.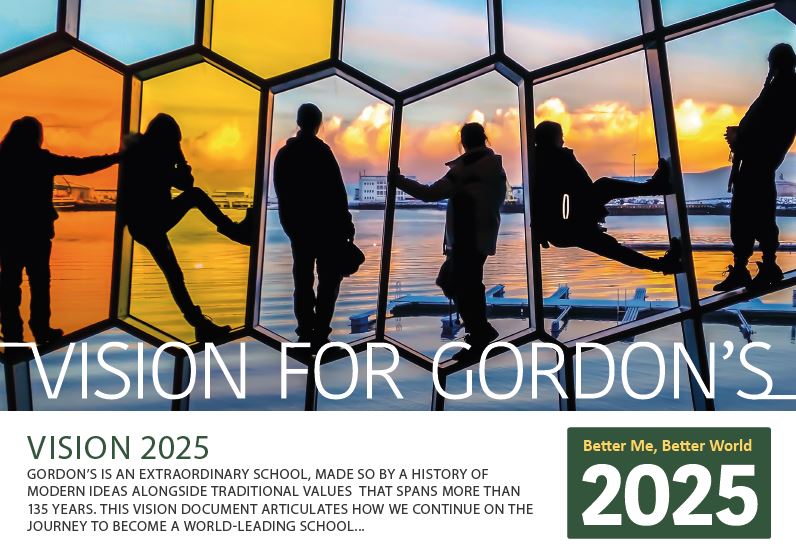 Key Themes
Strategic Objective 1 - Deliver world-class pastoral care, curriculum, and co-curricular provision.

Strategic Objective 2 - Ensure that support services and site development are fit for purpose and commensurate with outstanding provision.

Strategic Objective 3 - Increase The Gordon Foundation's financial stability and support for financially necessitous students.

Strategic Objective 4 - Be alert to, and take advantage of, opportunities to extend the influence of Gordon's, at home and overseas.