Scuba Diving Trip to Lanzarote - July 2014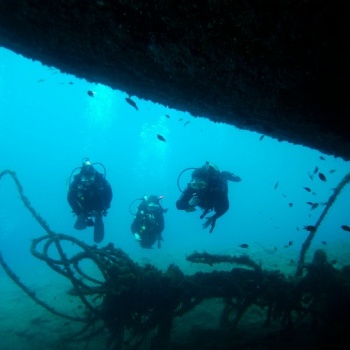 This summer Gordon's School travelled to Lanzarote to complete a qualification in scuba diving
This summer Gordon's School travelled to Lanzarote to complete a qualification in scuba diving. The courses were completed with Canary Island Divers; a 5 Star Gold Palm Instructor Centre. All instructors were thorough and made the students and staff feel at ease under water.
Lauren Kemp and Megan Clark recall their experience on the trip:
During July we travelled to Lanzarote to gain the PADI open water qualification. It was a challenging experience which we all enjoyed very much. Whilst we were there we met the Canary Island Diving instructors who taught us the skills such as fin pivot and neutral buoyancy. We dived to 18metres and saw many species of marine life, for example octopuses, seahorses and a manta ray. As well as the diving we also did activities such as going to the town, relaxing on the beach, swimming in the pool and playing mini golf. A part we all really enjoyed was regularly taking a stroll to the local town to have an evening meal. Miss Larkin, Mr Alford and Miss Balla were great hosts and we thank them for such a brilliant trip.
After a successful trip we are now looking at returning to the resort in October half term 2015, if any students are interested please see Miss Larkin for further details.