Model UN Reigate Grammar Competition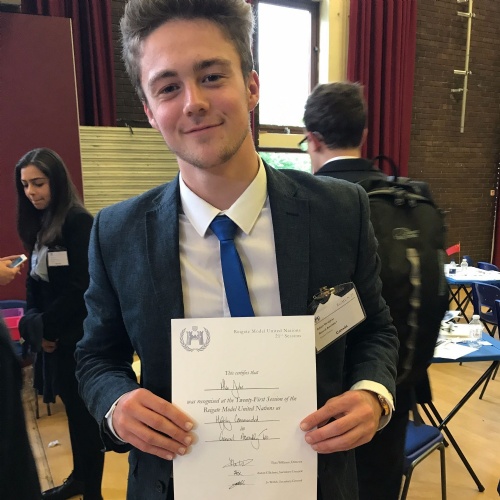 Joined by 150 fellow delegates, Gordon's School attended Reigate Grammar School on 23rd September for the first Model United Nations competition of the academic year.
On Saturday 23rd September the Gordon's School Model United Nations team took part in the first competition of the year at Reigate Grammar School. Joined by 150 fellow delegates, Gordon's School, representing Ethiopia and Canada, grappled with issues of international importance from the question of stateless persons to the question of international security.
Well done to Dina Khan, Phoebe Norman, Grace Keyes and Tia Jasani for representing Ethiopia and Quentin Evason, Adam Grainger, Alex Duke, Gwyneth Sotuminu and Bene Robinson for representing Canada. All students worked hard constructing Resolutions proper to the competition, which were delivered with aplomb in committee rooms.
Particular congratulations to Adam Grainger who was awarded the honour of 'Highly Commended Delegate'.