Gordon's Gold at Surrey Indoor Rowing Tournament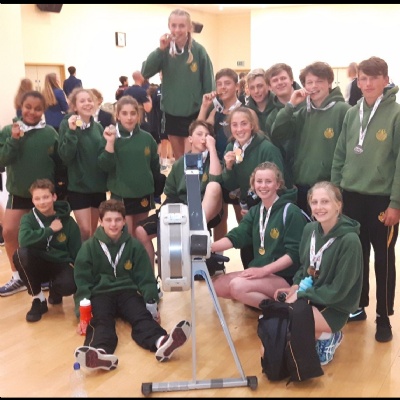 Once again, Surrey Sports Park played host to the Surrey Indoor Rowing Tournament.
The competition is open to boys and girls from Years 7-10.
The format for the event started with individual races with Year 7's rowing for two minutes, Year 8's rowing for three minutes, Year 9s rowing for four minutes, and the Year 10's rowing for five minutes.
Of the 10 competitors in each category Gordon's enjoyed podium finishes in the following:
Bronze Year 7 Boys Matteo Toriati
Bronze Year 8 Boys Louis Phipps
Bronze Year 8 Girls Claudia Platts
Bronze Year 9 Girls Daisy Kenworthy
Bronze Year 10 Girls Maisy Ellis
Silver Year 8 Boys Will Lewis
Gold Year 7 Girls Lucy Mocetuba
Gold Year 10 Girls Kathryn Gooch
The second phase of the event was the relays. These are set up with a combined Year 7 & 8 Girls team, a combined Year 7 & 8 boys team, a combined year 9 & 10 girls team and combined year 9 & 10 boys team.
The race is set up exactly the same as our Inter-House competition, with each rower in each four man team covering maximum distance in a set time, with the changeovers being the all important part of the race.
Again our rowers fared well with all four teams holding medal positions. Final relay positions were, Bronze for both Boys teams and Gold for both Girls teams.
All in all, it was a fantastic achievement for the complete team with a final team position of 1st place overall. The trophies were presented by Toby Garbett who is a current GB rower.
Well done to all rowers and in particular to our team captain Kathryn Gooch for assisting with coaching tips to our younger and less experienced rowers. I would also like to personally thank Miss Jo Bowen for assisting me throughout the day - Stephen Monk.