Gordon's Student, Millie, Achieves Rowing Success Despite Asthma Diagnosis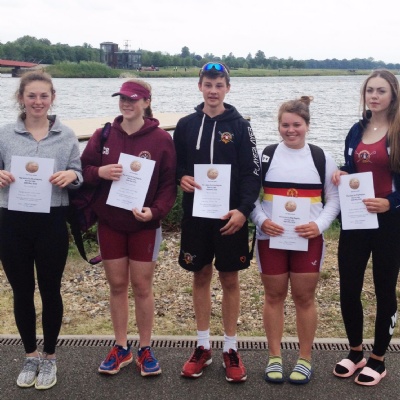 Amelia 'Millie' Guida, 15 years-old from West End, Woking, is currently training to attend the GB rowing Junior Trials in 2018, in the hope of reaching the Junior World Rowing Championships in 2019.
Millie started rowing just one year ago, initially picking up the activity as a way to pass the school summer holidays. However, the summer activity quickly became something much more as Millie's natural talent for the sport became apparent.
Since then she has gone on to win several medals, including Bronze at the British Championships Under-15 group, despite being 14 at the time, and Gold at the National Scullery.
However, Millie's determination to her sport was tested when she was recently diagnosed with Exercise Induced Asthma – a condition where the individual experiences symptoms of an asthma attack but may not have previously experienced asthma. It can make exercise very difficult and requires strict management in order to be able to continue exercising safely, which is particularly difficult at such a competitive level.
Millie was first diagnosed with the condition after her coach was concerned having noticed Millie struggling to breathe and becoming red in the face, despite usually being a strong and fit girl.
Millie said, "I was becoming blotchy and feeling a bit faint and my coach was concerned and said her daughter has asthma and thought I should get tested too."
After going to see a doctor and undergoing tests to measure lung capacity, Millie was diagnosed with Exercise Induced Asthma and given Ventolin.
"I was told to use the Ventolin before a race or exercise, if I don't I struggle to perform at my best, as I get dizzy and can't force enough air into my lungs to work hard enough."
However, not long after her diagnosis, an Anti-Doping meeting was held at Marlow Rowing Club, where Millie is part of the Junior Rowing Squad. This meeting resulted in changes for Millie and the management of her condition.
"I found out that these drugs [such as Ventolin] were called Beta Agonists. They are really helpful for me as it means I can prevent an asthma attack and so can continue rowing at my best, but if used by a healthy person they may offer benefits above their normal level of performance."
Previously the allowance for Ventolin was 1600 MGC in 24 hours; however, this has now been changed to 800 MGC in a 12 hour period.
This makes a big difference to Millie as initially she was told by the doctor to take 4 puffs ie 400MCG before a race or strenuous activity. However at certain competitions she may be required to race four times in one day, which would be 1600 MCG in a twelve hour period, this means that if there is a second day she would then become over the limit.
For this reason, Millie has to be vigilant with her Ventolin use whilst also ensuring she remains healthy and able to compete.
"My coach told me at the beginning of this that Asthma can be the thing that stops me or the thing that pushes me to be better and beat it and I have chosen to beat it. It is no longer stopping me. I also have a brown inhaler now and there are no restrictions on that drug, which is good."
This hasn't been Millie's only struggle. Rowing is an expensive sport and with the cost of training, attending trials and travel Millie has made a huge commitment not only to her training but to the ongoing cost of rowing. Additionally, Millie has been told she requires her own boat to trial in as it sized to the rower for height, weight and ability.
"We never knew the commitment it [rowing] would end up being, or the expense. I've picked an expensive sport, but it's the best one."
Millie is currently attempting to raise £15,000 so she can get to the GB Junior Trials. The funds would cover the cost of purchasing a boat, training, travel and her trials. Millie qualified for the WJ16 GB Trials in January 2017, despite being just 15, however, a decision has been made for Millie to trial in 2018 instead so she can focus on continued progress and training over the next year, and it allows her time to raise as much money as possible to purchase a boat.
To help Millie get to trials for the GB team you can donate to her JustGiving page here.
Millie attends Gordon's School in West End, Woking, which has been named the number one secondary school in Surrey by The Real Schools Guide for the second year running. Millie remains dedicated to her school studies, whilst also managing her condition, continue strict training and attend competitions.
Andrew Moss, Head Teacher at Gordon's School, said, "We are immensely proud of Millie and her achievements, in spite of her asthma diagnosis. We encourage all our students to achieve inside and outside the classroom and Millie balances commitment to academic life with wider participation exceptionally well, and all whilst also managing her health."