Zara van Zyl completes first solo flight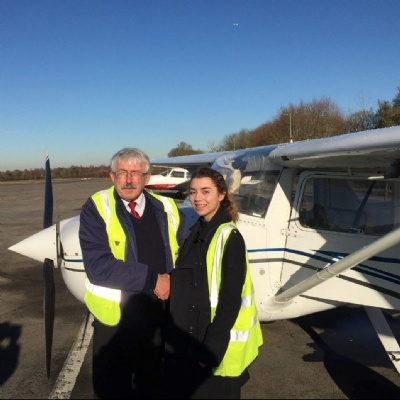 Congratulations to Zara van Zyl, 12 Ke, who completed her first solo flight at Air First, Blackbushe Airport, on Sunday 4th December. Zara has regularly enjoyed flying lessons at the airport during weekends and spent time over the summer enjoying a flying scholarship with the RAF. She joined Gordon's School in September 2016 and has already made an impact on life in her House and across the school.
Zara said, "I've been flying since December 2014 at Airfirst based at Blackbushe airfield and I went solo on the 4th December 2016. I'm planning on completing my Private Pilot's License in the next year and going on to apply to the RAF after A-Level exams in 2018. I still have four out of nine exams to write, in order to complete the academic side of it and some cross-country flights to do, both under instruction and solo."
Zara only turned 17 on Tuesday 6th December so has yet to start learning to drive a car but we are all proud of her achievements in the skies.