KS5 Inter-House Debating Competition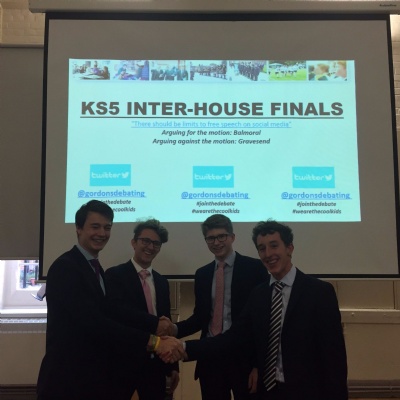 It's been an exciting week for @gordonsdebating with the KS5 Inter-House final.
The week began with each House performing a 3 minute speech. Standards were extremely high but only four Houses could make it through to the Semi-Finals. By a very close margin, Windsor, Gravesend, Khartoum and Balmoral were given the opportunity to partake in a full debate on the topic of artificial intelligence. The stakes were high and the competition was fierce, but, after much deliberation it was decided that Balmoral and reigning champions, Gravesend, would make it through to the Final.
To say that the gloves were off is an understatement. As wits were pitted against each other, it was clear that both Houses were not going to be content with second place. Debating on the topic of free speech, Henry Gray and Nathaniel Vann (Gravesend) and James Kennett and Ben Lindsey (Balmoral) put in performances that wouldn't have looked out of place in Parliament! But only one winner could be declared and, by a margin of just two points, the judges awarded the victory to Balmoral.
Fear not; there's still all to play for as we turn to the KS4 Inter-House competition later this term.