Model United Nations Conference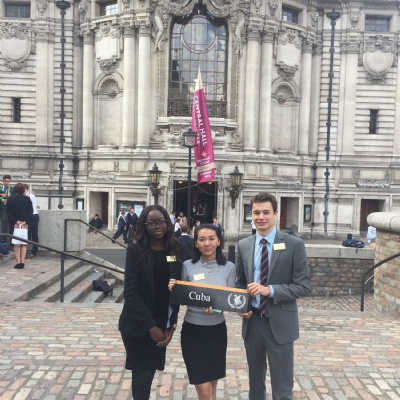 On the 21st September 2016, Gordon's School was delighted to be invited to take part in a very special Model United Nations Conference. This year, 2016, marks the 70th anniversary of the very first session of the United Nations General Assembly, which met throughout the year of 1946 at the Methodist Central Hall Westminster.
To celebrate this pivotal moment in international history, schools from across the country came together to re-debate two of the first resolutions passed at the very spot of the first UN meeting 70 years ago. Just as in 1946, we debated the issue of Atomic Energy and that of Refugees – two topics that are still highly relevant today.
Year 13 students, Sophie Chan, Toyomo Bolusire and James Kennett, had the opportunity to engage, argue and collaborate and, in doing so, acknowledge and celebrate the role of the UN as a champion for peace, equality and justice.
This also gave Gordon's the opportunity to publicise the Gordon's MUN Conference on the 25th and 26th February 2017.