National Karting Finals 2016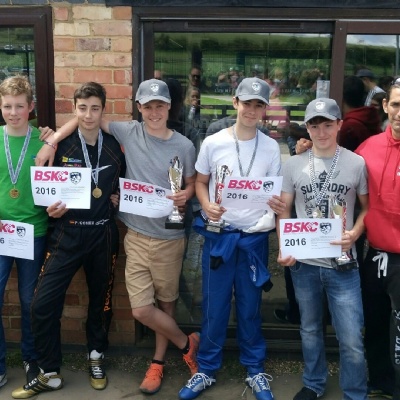 Great result for both Gordon's School karting teams at the National Karting Finals
The journey started in November with the first practice session at TeamSport in Farnborough and continued at Sandown Daytona, Buckmore Park (Kent) and the final being held at Whilton Mill in Northamptonshire.
After a great two hours of practise on the finals track on Friday evening and a hearty meal the boys arrived for the Final the morning of Saturday 2nd July in good spirts, if a little nervous.
As soon as the racing started it seemed as if Gordon's were going to out-do all expectations. Pedro Gomez setting the tone by coming from 13th to take second in the first race. Marcus Smith winning the second race and then Zak Fulk with the performance of the day starting at the back of the grid and weaving through all comers to steal race 3 on the last lap. After a short break it was the turn of Samuel Hudson to show the incredible improvement he has made by getting a top 6 finish. Going into the last two races we knew it was close, and it was left to Ed Lee and Pete Given to keep their cool while parents, team managers and team members were losing theirs!
As the results were read out I was amazed that we had made top ten for both teams, but as the countdown continued Gordon's took 6th and 3rd in the National Karting final (500 teams has originally entered!)
I am massively proud of all the boys and a huge thank you to all who have supported us along the way – Mr Moss, Ms Holmes, Mr Pavis, Mr Taylor and of course the parents.
Next year two podium finishes?
Mr Sinclair