China Day 2016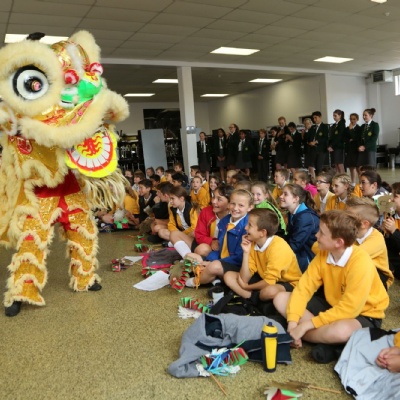 For the third year in a row, we welcomed Holy Trinity to Gordon's School to celebrate China Day 2016
For the third year in a row, we were very happy to welcome 60 Year 6 Holy Trinity pupils and a number of staff members to Gordon's School on a somewhat showery Tuesday 14th June. Thankfully the weather cooperated enough at key moments to ensure no one got soaked!
In what has become something of a new tradition, students were treated to a rota of events during the day to learn about all things Chinese. The Art department led by Miss Antolik organised a fantastic dragon-making session with some very impressive dragon puppets made in just one hour. Mrs Culham in Food Tech organised a wonderful spring roll making lesson and I can vouch for the tastiness of the results! Mrs Blaine laid on a fascinating music lesson for the students where they learnt to play traditional Chinese instruments including Chinese flutes and moon guitars alongside Western instruments like the violin. In their Introductory Mandarin lesson, Mr Depoix taught the pupils basic greetings and how to count to 10. Some students could manage to do this after just one lesson, which is a pretty impressive achievement! We also gave ourselves some traditional Chinese names for a bit of fun at the end.
After the rota, we all moved into the Dining Hall where pupils were really taken with a performance of a Lion Dance, which 6 Year 9 girls had learnt in 30 minutes or so, courtesy of the Chinese Association of Woking.
There are lots of people to thank including the teachers mentioned above but also the twenty plus pupils from across Years 8, 9 and 10 who willingly gave of their time to help out in the various activities and ensure that the pupils had a great learning experience. The Catering Team are also due a big thank you for laying on an early lunch for the students and providing drinks and snacks at break time. Thanks also to Mr Campbell for taking some wonderful photos.
See you all again in 2017!
Mr Depoix (a.k.a. Fei Long – Flying Dragon!)