Founder's Day 2016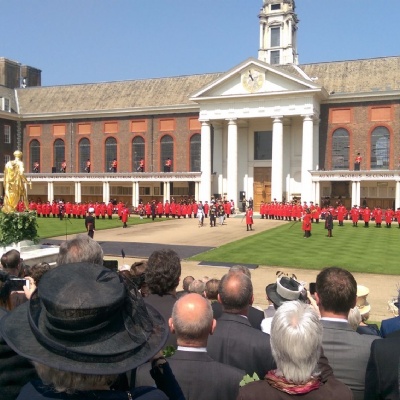 HRH The Princess Royal Meets Gordon's School Students at The Chelsea Hospital Founder's Day Parade 2016
On Thursday 9th June HRH The Princess Royal reviewed the Chelsea Pensioners at this year's 324th annual Founder's Day Parade, watched by a large crowd including staff and pupils from Gordon's School. The school is invited to this important event each year, a connection we are very proud of.
The students who attended were selected from Year 7 to represent each House and this year the group included: Archie Pearson, Grace Fulk, Jessica Hayman, Harriet Duffin, Olivia Garner, Bilal Salim, Matthew Dove, Henry Watts & Molly Barnard. Not only did our students enjoy a marvellous spectacle watching the pensioners march (the average age of those who took part in the parade was 83!) as well as meeting them in the sunshine but they were also very excited to be spoken to by HRH The Princess Royal at the end of the parade. The students all looked very smart in their Blues and many of the pensioners congratulated them on this after the parade, as did Johnson Beharry, the first recipient of the Victoria Cross since 1982. At the time of his award, he was one of only ten living recipients of the VC.

Some 300 army veterans live at the Royal Hospital today, including those who have served in Korea, the Falkland Islands, Cyprus, Northern Ireland and World War II. The Royal Hospital is a Grade I and II listed site, a beautiful architectural legacy left to us by Charles II and Sir Christopher Wren. After a wonderful lunch the students were taken on a guided tour by Mr and Mrs Fox after which it was all too soon to come home. The group would like to thank Mr and Mrs Fox for looking after them so well on this trip. Everyone involved looks forward to reciprocating the hospitality we enjoyed at Chelsea when some of the Pensioners visit Gordon's for Annual.