Insight Talk with Matt Dickinson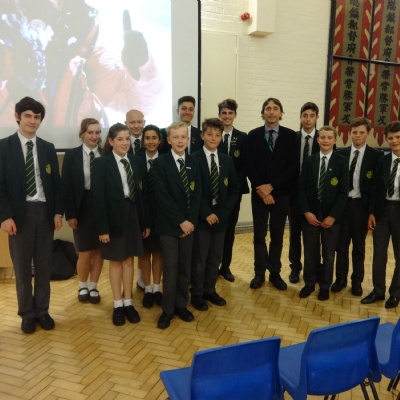 On the evening of 10th May 2016 we welcomed Matt Dickinson, National Geographic Cameraman, Writer and Explorer to Gordon's
On the evening of 10th May 2016 we welcomed Matt Dickinson, National Geographic Cameraman, Writer and Explorer to Gordon's for a truly inspirational Insight Talk. Matt gave a highly entertaining insight into filming in extreme conditions and how best to break into a competitive industry.
Matt, who worked with Brian Blessed when he scaled Everest, informed us on how he got into filming and then onto exploration documentaries. He then took us through his latest adventure being "Writer in Residence" at Everest Base Camp for a group of climbers attempting the challenge through an exploration company. There was a 64 year old marathon runner, a climber with a form of cystic fibrosis and several other self-made men and women. His insight into how you can now have hot showers at basecamp plus individual tents would have probably produced amazement and disbelief in explorers such as Tenzing, Hillary and Mallory. He also made a very strong point about taking different forms of chocolate bars on such expeditions, as his supply of 300 Toffee Crisps got very boring!
Matt will be sending through some signed copies of his adult book Death Zone (also available on Amazon) and also his young adult Everest Files thrillers that are available through his website at www.everestfiles.com. His blog is also available via this website.
Thank you Matt for a fantastic talk.
Please contact ahughes@gordons.surrey.sch.uk to order copies of Matt's book.