Gordon's staff run the London Marathon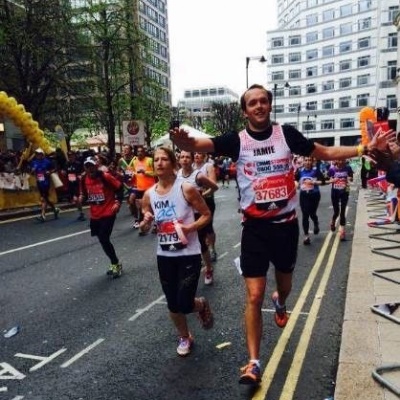 Congratulations to Mr Harrison and Mr King who successfully completed the London Marathon this year! Mr Harrison recalls his experiences running his first London Marathon alongside Mr King on Sunday 24th April...
For Mr King and I it seemed such a good idea at the time... the chance to fulfil a long held ambition to run in the iconic London Marathon, to support the valuable work undertaken in our communities by Crimestoppers. However, at the 20 mile marker we began to doubt ourselves and our ability to make any decision at all, let alone to spend our Sunday morning (and afternoon!) running 26.2 miles around the streets of London.
We were carried over the finish line on a wave of adrenalin and the enthusiastic support of the amazing crowd, some of whom were our family and friends lining those familiar streets. On reflection, given the chance to enjoy the camaraderie of training, the excitement of crossing the starting line with 34,999 other hopefuls, to feel the support and humour of the crowd and to experience again the feeling of overcoming the self-imposed challenge of running the London Marathon, we would probably do it all again! We would both like to thank all those who have donated to our charity, Crimestoppers UK, and for all the kind words of support in the lead up, during and after the London Marathon.
Finishing times:
Mr Harrison: 4 hours 15minutes
Mr King: 4 hours 28minutes