AWARD for CCF volunteer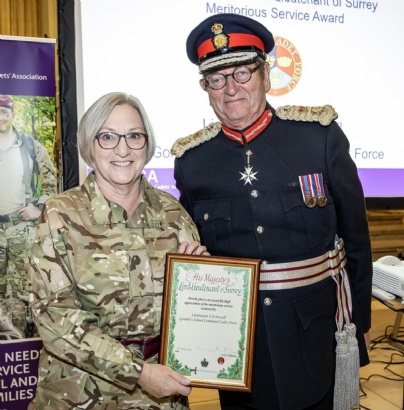 When her son came home from Gordon's and said Major Robinson [the then Commanding Officer of the school CCF] needed help with the CCF, Jane Powell immediately put her name forward. That was over 20 years ago!
Now Mrs Powell, who is in the Army section of the cadets, has been presented with a Meritorious Service Award by the His Majesty's Lord-Lieutenant of Surrey, Michael More-Molyneux in recognition of her contribution to the CCF.
The mother of three sons, two of whom were students at Gordon's, Mrs Powell has volunteered with the Duke of Edinburgh's Award Scheme and RAF Section at Gordon's, joining the Army Section in 2007 and accompanying children since 1994 in the Ten Tors Challenge.
She had neither a military background nor experience of the CCF before volunteering at Gordon's, and says: "I enjoy it, it has become part of my life".
Every student in Year 10 joins the CCF at Gordon's, which offers a tri-service of Army, Navy and Air Force. Mrs Powell commented that the most rewarding part of her work is seeing how much the students progress during the year and how they 'come out of themselves' when taking part. She added: "Winning awards at Army camp is always a highlight and the friendships made over the years. The CCF section has great staff who work hard for the cadets".
Speaking of the Award, Mrs Powell said: "It was an honour to be recognised for doing what I am doing and very nice".