Lord's for final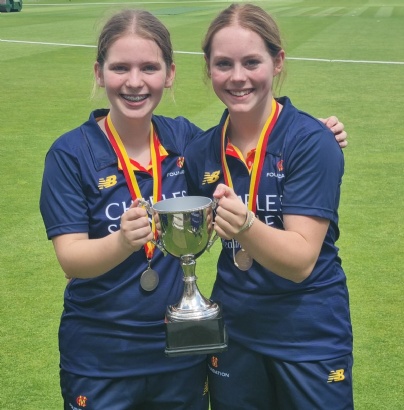 Few people can claim to have played cricket on the hallowed turf of Lord's cricket ground once, let alone twice! Yet two cricketers from Gordon's and Valley End Cricket Club, Izzy Moors and Abi Shaw-Hales managed the feat this Summer. Both were involved in their second Lord's final when they turned out for the rapidly advancing Guildford Hub in the prestigious MCC National Hub T20 Competition.
After their loss to Bolton the previous summer, the Guildford team were determined to turn the tables on the northern powerhouse side of Bolton at this historic venue.
In a final billed as 'the northern supercharges versus the southern brave', Shaw-Hales led Guildford to a memorable victory over Bolton Hub.
After a highly organised display in the field, where Guildford restricted Bolton to an average score of 102/3 off their 20 overs, Guildford were in a spot of bother at 27/3 off 7.1 overs. However, in strode the in-form Moors who brought a much-needed injection of positivity and calm to the run chase. Steering Guildford to a much improved 79/5 off 14.2 overs, Moors was joined by her teammate and captain Shaw-Hales. Shaw-Hales then went about dispatching the Bolton bowling to all corners of the ground in her cameo innings of 16 in just eight balls. When she was dismissed at 101/6 the job was all but done. Moors saw Guildford over the line just one ball later, winning by four wickets and thrilling the audience of over 1,000 spectators.
Shortly afterwards, Guildford were presented with their medals by England Women's Captain Heather Knight. Captain Shaw-Hales, who has been playing cricket for four years, said: "After the winning run, the whole team was filled with excitement and we all ran out to celebrate with the batters. It was a memorable moment for all of us and one that I will cherish forever."
Notably, as well as her match winning 29 not out, Moors had also bowled three extremely accurate overs earlier in the day, giving away just five runs, which were vital in Guildford's mission of restricting Bolton to a score they felt confident chasing.
Moors, who plays for Gordon's First team, took her passion for cricket to Valley End CC. This was followed by also joining the Guildford team just two years ago.
Both girls are also keen netball players so had little time to celebrate their cricket victory as they were whisked off to Heathrow to board a flight to South Africa for the Gordon's netball tour!
John the coach said to Moors before she walked onto the pitch that he needed her to stay in and bat to the end. She confessed, "I felt the pressure" and was "scared" walking out but said: "after a while I felt perfectly fine and enjoyed playing".
"It was a great feeling to win, especially as they had last year! It was such a great atmosphere to walk out. The whole day was such an amazing atmosphere, and a day I will never forget."
Shaw-Hales also admitted to some nerves beforehand: "Going onto the pitch to bat, I was nervous, but excited and I remember thinking that I just wanted to do well and do my part for the team. Immediately when I went into bat I was much more relaxed, as Izzy, one of my best friends, who also plays at the same club as me, was the person I was batting with.
"Whenever we bat together, we usually get a good partnership, and so going into the game I was already in a good mindset, which I think is definitely key for batting, as it can be very pressurising."
She added: "It was an unreal experience and something I will remember for the rest of my life".
Reflecting on the game, Shaw-Hales said: "Our coach John, said to me that the other players, only had three aspects of the game to think about: bowling, batting and fielding, however I had another one: captaining. it was definitely a challenge for me as I had a lot to think about, but I would like to credit the whole team as many of my teammates helped with decisions, especially our two vice captains, who both have very good knowledge of the game.
"After winning, I was so proud of the whole team as everyone had worked hard for this and had contributed to the victory. I was also really proud of how everyone has supported each other throughout the competition".
She added: "For any other girls interested in playing cricket, I would just say go for it. it can be a hard sport to get into, especially for girls, however, more and more girls are getting involved in the sport and opportunities in cricket for girls are increasing as we speak. I joined my club when there were no girls' teams, and just seven girls!
"I did not once think that I would have the incredible opportunity to play, let alone win, a final at Lords with many other talented female players, which just proves how far women's cricket has come and it will most definitely continue to grow in the future.
"It has been amazing to be part of the growth in girls' cricket. I am very grateful that the MCC Foundation have set this competition up as I have found it a great opportunity and have met so many amazing people".