England Selection for Robb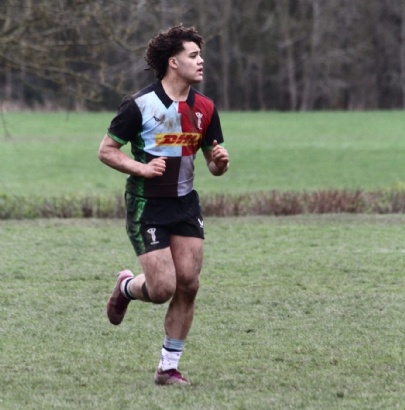 The early mornings, hard work and dedication have paid off! Gordon's rugby player Zuko Robb has been selected for the England U18 squad that will head off to South Africa during the Summer.
For Zuko, rugby is his life. Since the age of six he has played the game at club level for Twickenham RFC. His former school, Grey Court was a massive part of his rugby development as well as Rosslyn Park, before he progressed to Harlequins and gained a coveted place on the Harlequins/Gordon's Partnership Programme, as a DiSE (Diploma in Sporting Excellence) player, playing in the ACE League.
His move to Gordon's Sixth Form in September last year has meant getting up at 5:30am from his home in South West London so he can get to school for training and studying. "My life pretty much revolves around rugby" admits Zuko. "On a Friday when I go home it's sleep and on a Saturday and weekends, it's Quins games. There's not much going out!"
In April he was told by the England coaches that his progress and development at Gordon's and Harlequins had been noticed and he was offered the chance to take part in an England Development Squad Training on a four day/three night camp with the possibility of selection for the squad. He joined fellow Sixth Form student Enock Addai in Hartpury RFC for the camp. While injury has cut short Enock's selection, Zuko has a confirmed place on the touring side and will carry the torch for them both. "It's a dream come true" said the delighted Zuko adding: "This season has been the best one. I feel like the jump of competitive rugby, the more you go up in years the harder it gets, the more challenging so you are forced to develop. The ACE League is definitely the pinnacle of English schoolboy rugby it is very channelling and quite hard".
Zuko's coach, Head of Rugby at Gordon's, Chris Davies paid tribute, saying: "Zuko was identified as a talented player and more importantly a good person which gave him the opportunity to study at Gordon's and in addition the DiSE. This has allowed Zuko to receive more 1:1 expert coaching and support on his journey to date. Zuko is an excellent role model for our younger years and we look forward to seeing him follow in the footsteps of recent ACE team graduates Tom Golder and Caleb Ashworth by representing his country".
Currently studying A Levels in PE, sociology and media as well as the Diploma in Sporting Excellence, Zuko comes from a "supportive family of rugby – my uncles and cousins are all massive Harlequins supporters'' he says.
The ultimate ambition in his rugby journey? "My aim is to go professional and get a contract at the end of this time at Gordon's".