Long Service Award after 26 Years!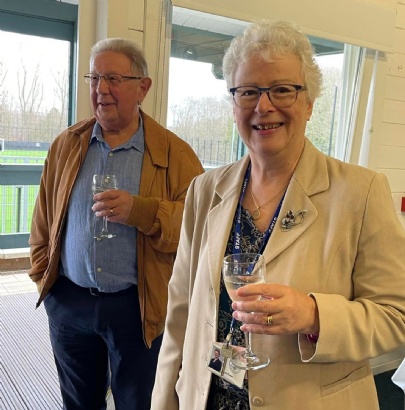 She's been the gateway to Gordon's, the first person any prospective parent speaks to and in her hands have lain the hopes and dreams of around sixteen thousand children.
Sue Tozer left Gordon's on Friday after 26 years of dedicated service, first as assistant to the PA to the Head, which involved admissions, and then dealing with admissions for both school and sixth form together as well as all the year groups in between, and now as Admissions Registrar (Main School). Staff threw a surprise party for her (complete with piper!) and in a full staff get-together on the last day of term, Mrs Tozer was presented with a long-service camel by the Chair of Governors Jane Valner, and gifts from the Gordon's School Parents Association (GSPA) as well as those from her colleagues.
In the last few years, Mrs Tozer has dealt with five applications for every Year 7 place available at Gordon's, putting the school high up the league tables for the most over-subscribed in the country.
Her office overlooked the Parade Square so for Friday Drill she had a ringside seat. "I think I won't know how much I miss it until it's gone. I can always put the videos on!" As to what else she will miss, she quickly answers: "Active children and the buzz about the place. The fact is, Gordon's is not just the brochure and lists on the website. It happens. It is real. Under the leadership of Andrew Moss, Head Teacher, the school continues to go from strength to strength."
"I'll miss the people. Colleagues to work with and parents as customers to deal with. Whatever the outcome, whether they get a place for their child or not, they should be left with a warm, fuzzy feeling about Gordon's. I can't promise them a place, because there are procedures and policies for that but I want them to feel they were dealt with fairly and had a good experience visiting. Customer service is the thing."
In his book 'From Children's Home to CBE' former Headmaster of Gordon's Denis Mulkerrin wrote this fitting tribute to Mrs Tozer: 'The hardest working person in all of this was the indomitable Sue Tozer, who did all the vital administration and communication with parents. Her attention to detail was outstanding and she never got flustered. She also loved her job'.