Y9 Bag Design Project Competition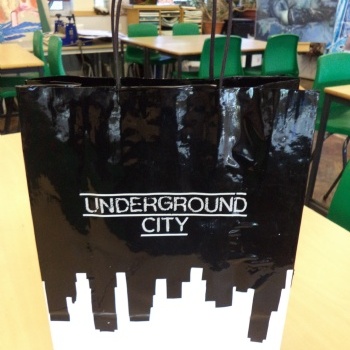 In the Spring Term of 2016, the Art Department ran a competition for all Y9 pupils which involved the design of a shopping bag, including the logo. Pupils were inspired by our visiting Graphic Designer, Darren Eagles
2016 Bag Design Project Competition
In the Spring Term of 2016, the Art Department ran a competition for all Y9 pupils which involved the design of a shopping bag, including the logo. Pupils were inspired by our visiting Graphic Designer, Darren Eagles. Mr Eagles then judged the competition once the project was completed and decided on the winners. Below you can see some of his feedback on the successful designs.
3rd place:
Emily Garner
Darren Eagles' feedback: You have used a good mix of typography and illustration with the BOLD name and the hair wrapping around it. I also like the side panels with the hair plait. You could have had some more fun with the red strip and turned that into a red hair plait as well. The back looks like it has a different logo to that on the front - which could be confusing.
2nd place:
Eleanor-Rose Prince
Darren Eagles' feedback: Well done for trying something different with the typography. It was a good observation to use the headphone cord to write the name. This fits well with the product. I think I would have used the instrument design on the side panels and kept the logo the same on back and front. Maybe added a strapline about the type of music they specialise in, which looks like a jazz-outfit from the style and images used. Well done.
Winner:
Tiana Stead
Darren Eagles' feedback: I love this design. It is simple and bold and the design looks like the same design from all directions. I like the typography; the distressed look and feel gives the logo character and an edgy appearance. The typeface looks like Gill which is the typeface used on the London underground - good choice! I think I would have used the website address on the back of the bag rather than a telephone number. It isn't clear what they sell so I would have put a strap line at the bottom of the bag describing the product. For example, if it's fashion, you could have said "Urban Wear Clothing". Well done.