Third place at Mosaic Enterprise Challenge 2016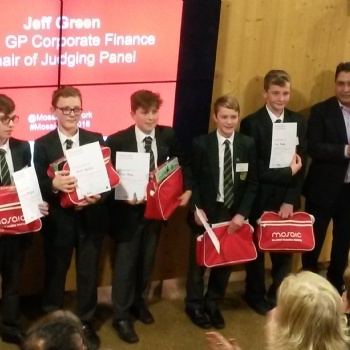 Gordon's school were pleased to finish third place in the South East Regional Finals of Mosaic Enterprise Challenge on Thursday 17th March

Gordon's School Finish Third in South East Regional Finals of Mosaic Enterprise Challenge
Gordon's school were pleased to finish third place in the South East Regional Finals of Mosaic Enterprise Challenge on Thursday 17th March. This is no mean feat considering the number of schools that participated in this competition.
The Year 9 enterprise team, consisted of the following pupils: Jamie Blake, Mark Fothergill, Mark Hewlins, Lars Henden and Dylan Naylor, as well as excellent contributions from Scott Biglin, Harvey Tulloch, Rory Cracroft and Bertie Hebburn-Heath.
These pupils developed and pitched their own social enterprise idea which was to 'build confidence, good health and sense of personal responsibility in pupils at year 5 and 6 through sports coaching'. This idea would benefit the school, the local community, parents and students, and would be run during weekends, to include a package of all round coaching on key sports including tennis, football and rugby.
The Mosaic Challenge has helped pupils to develop their entrepreneurial skills, such as creativity, communication, team work and critical thinking skills, all of which are vital for success in their studies, as well their future careers. Pupils also greatly benefit from working with experienced business mentors, who can pass on their expertise and knowledge to them. As one Year 9 pupil, Mark Fothergill commented 'the Mosaic Challenge has given me a head start in Business Studies".