Arete Inter-School Girls' Football Competition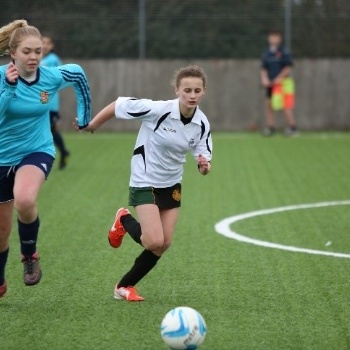 Thursday the 10th March was the latest major event between Gordon's and Woking High for the Arete Partnership Cup
Thursday the 10th March was the latest major event between Gordon's and Woking High for the Arete Partnership Cup. This time it was the turn of the Year 10 and 11 girls' football team. As some of our Year 9 girls are particularly talented at football for the first time many of them were also selected for the team.
Despite Woking High's football team being notoriously difficult to beat, as District Champions and County finalists, the Gordon's girls played with a winning attitude, never allowing Woking High to dominate them. Sophie Slimm, our captain, led the girls to a really strong start, showing great leadership skills. At half-time the score was still 0-0 despite some very skilful football from Woking High. The second half saw a more resolute defence but, unfortunately, Gordon's were unable to stop Woking High's strikers breaking through when they scored with just 8 minutes to go. Woking High's final goal came in the last minute but our girls had fought well against such an established team.
Another notable performance came from Eleanor Hing in Year 9, who was nominated Player of the Match.