Leaders of Today and Tomorrow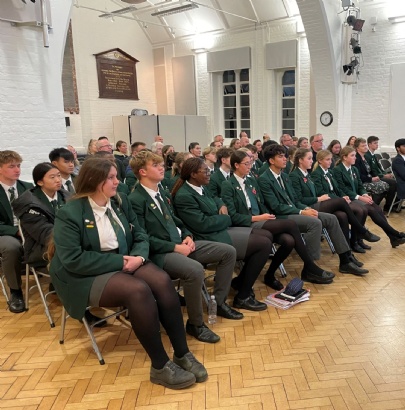 Congratulations to the 31 students from Gordon's who received their Institute of Leadership and Management (ILM) Level 2 awards this week, at an awards evening also attended by Woking High School.
Gordon's School and Woking High School, both members of the Arete Partnership of schools, collaborated on the training for the course, which is designed to develop leadership and management skills for a recognised qualification.
The two-module course, taken by 40 students from the two schools, covers self-leadership and mentoring skills and is designed to develop self-leadership and resilience in young people.
All Gordon's Junior Prefects were encouraged to study for their ILM Level 2 Leadership and Team Skills qualification. They were presented with their certificates by Woking High School's Headteacher Maiken Walter at a ceremony also attended by the Headteacher of Gordon's, Andrew Moss.
Mr Moss described the group as the "next aspiring leaders" and said that the ethos behind the awards was "leading for a reason, not just for yourself but to try and serve other people".
The opportunity to study leadership and management skills, leading to professional qualifications through the Institute of Leadership and Management has long been afforded to students and staff at both schools. So committed were Gordon's and Woking High to the programme of leadership awards, that they became an approved centre in 2015.
Mr Moss explained: "We became an approved centre a few years ago, offering ILM courses to all our staff – both teaching and support. After seeing the benefits to staff we decided to extend the courses to Key Stage 4 and 5 students to enhance their profile for university applications and give them the edge when applying for apprenticeships".
Please click here for further information about ILM at Gordon's.