Pipers make history in Scotland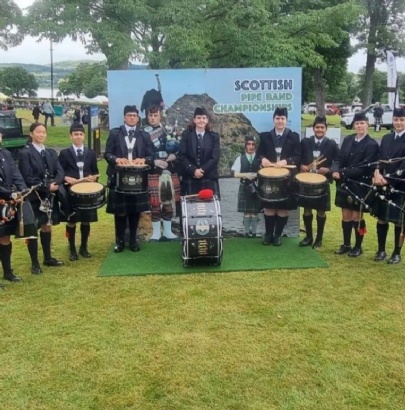 Believed to be the first English juvenile pipe band to take part in the Scottish Pipe Band Championships for a very long time, if not ever, pipers from Gordon's, together with Senior Pipe Major Iona Scotson competed against 110 other bands in the prestigious competition. Mrs Scotson said afterwards: "A short, yet sweet trip; and whilst not getting placed, new experiences were had and memories were made to treasure. There are things to work on, but the only way is up. Hugely proud of these guys. Nobody can fault their continuous enthusiasm, resilience and commitment but more importantly their team ethos and that above all else, is what is most important".
Gordon's Pipes and Drums are this year celebrating their 80th Anniversary of being on the Surrey Heath site of the school and have been involved in around 40 public performances, ranging from playing alongside the Red Hot Chilli Pipers and the 10 Queen's Own Gurkha Logistic Regiment Pipes and Drums to taking part in the Armed Forces Day Military Convoy and the Menin Gate Service of Remembrance. Next week they are off to Glasgow again for Piping Live and the World Pipe Band Championships!