Inter-House Netball 2016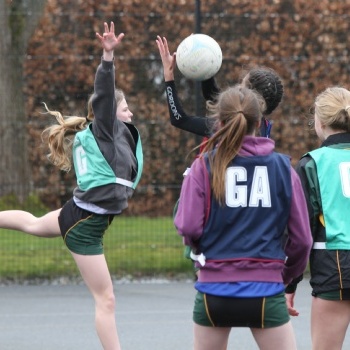 After the netball courts were treated overnight on Friday to protect them against frost and ice, and then again first thing Saturday morning, we were able to play the Inter House Netball competition
After the netball courts were treated overnight on Friday to protect them against frost and ice, and then again first thing Saturday morning, we were able to play the Inter House Netball competition. Conditions were very testing for all due the very cold temperature and light rain.
However, it proved to be a highly competitive event as always. The girls displayed a very good level of skill, enthusiasm and friendly rivalry with all games played in great spirit and sportsmanship.
Like the boys' Inter House Football competition, there were some very close matches contributing to an extremely close overall result.
Of the five trophies awarded, two were won by Kensington's Year 7 and 10 teams, two went to Windsor in Year 8 and combined Year 11/Sixth Form teams and China's Year 9s won their competition.
This year's overall winners were China who just managed to pip Windsor by one point.
Individual congratulations go to the "Players of the Tournament" – Pippa Dixon, Morgan Kearsley, Alyssa Kotecha, Grace Cresswell and Megan Fidge.
A big thank you to all the staff who helped officiate, parents and family who came to support the girls and finally congratulate all the players who represented their Houses so well.
Sue Forster