Powering for pots at Weybridge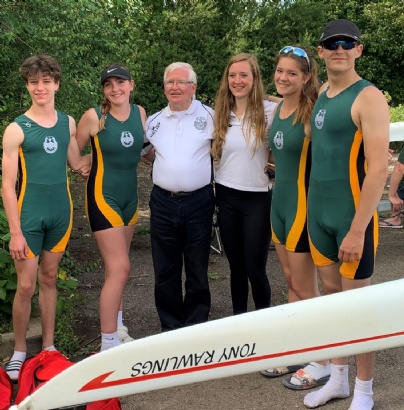 Another great day's racing for our rowers at the Walton and Weybridge Regatta over an 850m course. Tom and Ben competed in a double and so did Jake and James (in their first ever race!). Immie and Mimi in a double had a great first row and ending up in a 'dead heat'. This meant they had to spin around on the river and head straight back up to the start and re-race the race! Unfortunately, this time they were pipped right at the finish and lost by ¾ of a length! Mimi and James both ended up in the finals, with James holding level with the other crew until halfway when he managed to push past and win his race. Mimi, in her final, pulled away at the beginning and just kept making the gap bigger, going on to win by three boat lengths – and her first pot!
All the rowers have been supported and encouraged by James G, who due to injury, is unable to compete but cheers them on at all their regattas.
James and Mimi now have their sights set on the National Schools Regatta at Dorney Lake next week.