Teachers taking their expertise globally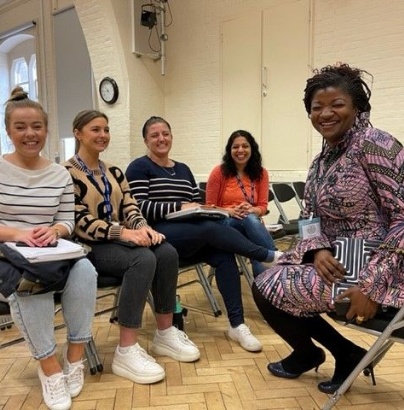 Teachers at Gordon's are set to partner teachers across the world in lower income countries to support them and improve learning outcomes for the children in their schools.
The partnership with the Commonwealth Education Trust will initially see six Gordon's teachers linked with 12 teachers from partner schools. They will meet virtually, using the Trust's Teach2030 course as a basis for their own areas of focus as their partnerships develop.
During their INSET Day programme at the start of the Summer Term, Betty Abeng, CEO of the Commonwealth Education Trust (far right), formerly known as the Commonwealth Institute, addressed teaching staff. Pictured with Ms Abeng are (left to right) Hannah Bedding, Mia Underwood, Rebecca Suarez and Ramla Ali. For further information on the partnership, please click here.