U12 Hockey County Trophy Runners Up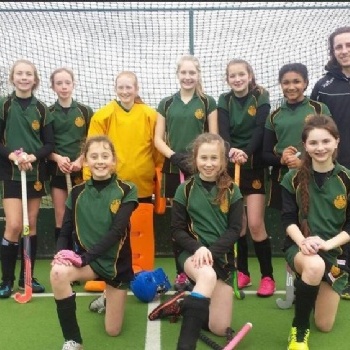 The U12s competed in the County Trophy competition on Tuesday 1st March
A cold and drizzly morning at the Hockey U12 County Tournament saw a slow start from the Gordon's girls against their first opponents, City of London Freeman's School B's. As minds and bodies began to fire up, this turned into a solid 2-0 victory for Gordon's. As the rain started driving down hard, there followed a flurry of victories as we demolished the group in ever more convincing style. Sutton High, Reigate Grammar School C's and St Teresa B's were dispatched with 11 goals scored and none conceded.
After some shakiness in defence, Claudia Platts, Elea Tulloch and Grayce Trafford got on top of their communication and worked well as a unit. Grayce deserves a special mention for stepping up to the challenge of her first A team game, after only 2 B team games under her belt. Captain Joanna Hay was controlling in the centre of the pitch, supported by the indefatigable Elea Tulloch. Lily Wallace and Harriet Duffin lent additional firepower to the Gordon's midfield. With a brace of goals, Sophie-Lily Sturm proved to have the striker's instinct and a real nose for back-board. Recent B team graduate Tilly Phillips more than held her own and shows a great deal of potential at the pointy end of the pitch. Another special mention must go to Karis Monk who kept a clean sheet through all the group games with a number of top-class saves - a promising future lies ahead I'm sure!
The semi-finals were a close run affair against a very strong Sir William Perkins' team. This went down to the wire with a 3-2 victory in penalty flicks after full time ending in a 2-2 draw. Gordon's then faced the high-flying Reigate Grammar School B Team in a tooth-and-nail final which also ended in a 1-1 draw. After 3 flicks each we unfortunately lost out in sudden death. Another day, another flick it could have been a very different kettle of fish...
Runners-Up: County Trophy Competition
2nd Place State School in Surrey