Farewell Mr and Mrs Pavis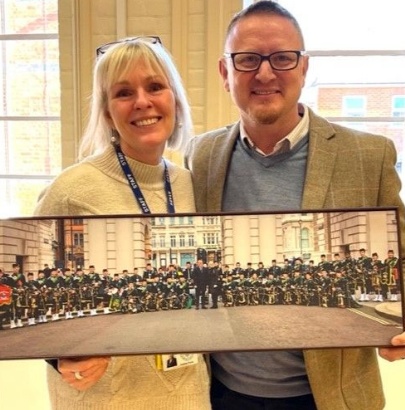 After almost eight years at Gordon's, Rob and Heather Pavis are swapping the leafy surrounds of Surrey Heath for the surf on the North Devon coastline where Mr Pavis will take up the Headship at Kingsley School in Devon.
Mr Pavis, Deputy Head (Pastoral) and Mrs Pavis, who heads up China House, moved to Gordon's in 2014 from Steyning Grammar School in Sussex where Mr Pavis was Assistant Head and Director of Boarding.
While his time at Gordon's involved leading a five year digital strategy and developing the sport and curricular at the school, it was through the pandemic that his prowess really came to the fore. Who could forget the cartoons, online assemblies, the 'disappearing' Japanese cooking lesson? All were enthusiastically devised and implemented by him.
Reflecting on his years as Deputy Head, Mr Pavis highlighted the Year 7 boarding house, Woolwich as his biggest achievement: "I conceived it, was involved in the design and the building and it has completely transformed boarding here. Whenever you go down to Woolwich it is just packed full of happy kids. It is light and fun, exciting and everything that boarding in Year 7 should be. It's just magical there".
And the most rewarding aspect of his job? "The greatest satisfaction from my work and the biggest joy that I have here is seeing the children happy. I secretly stand by and just look at happy children and I get such a warm glow from knowing that I am part of making that happen. That is the most fulfilling role".
For her part, Mrs Pavis confesses to having become really competitive since taking over the helm of China House and supporting her 90 or so charges on pitches, netball courts and other Inter-House competitions. The journey of the girls from nervous arrival in oversized blazers and skirts to their confident departure post A Levels is what she has cherished most about her role at Gordon's. She said: "I love the job, have always loved it. I have never had a day when I've woken up and thought 'I don't want to go to work today'."
"This has just been the most amazing place to work. When you get into the bones of what Gordon's is about it's how much the staff care about each child, I think it is just second to none. It's something I haven't experienced in the same depth at other schools. You know every child, what makes them tick - and blow up! You just know them. It's been an absolute pleasure and privilege".
Mr and Mrs Pavis are shown with the picture presented to them today from the recent Whitehall Parade.