BKSC Regional Karting Semi-Final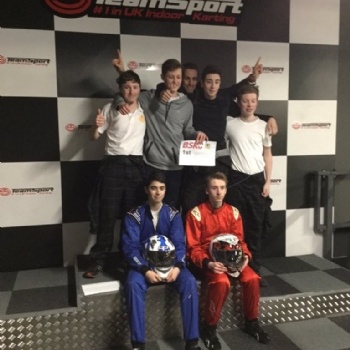 After four practice sessions the Gordon's karting team took to the tarmac (or the plastic) to race for real on Thursday 25th February
BKSC Regional Karting Semi-Final
After four practice sessions the Gordon's karting team took to the tarmac (or the plastic) to race for real on Thursday 25th February!
The format was similar to the practice; with six 10 minute races, each of the 3 drivers per team allocated 2 of the races. Gordon's were up against a strong Reed's contingent who had entered 5 teams.
Marcus Smith (Gravesend), Zak Fulk, Ed Lee and Sam Hudson (all Buckingham) got Gordon's off to a flier finishing 1-2 in the first and second races.
Then came the excepted fight back form Reed's and by the end of race 4, Reed's A team were sandwiched between the Gordon's teams with just 2 points separating the three of them. An inspired drive by Pedro Gomez (Buckingham) saw him go from the back of the grid to lead the race (until team orders came through to allow the B team through to gain more points!)
This left Pete Given (Buckingham) and Marcus to lead the team home in the final race – again a 1-2 for Gordon's.
Overall, the Gordon's teams finished joint top with 115 point each and both achieved qualification to the next round...
The Regional Final on the 7th May at Buckmore Park, Kent.
Thanks for all the support from families – you made it into a real occasion for the boys and it was good for my nerves to share the pressure!
Toto Wolf
(Team Manager)