Sandringham win Inter-House Art Competition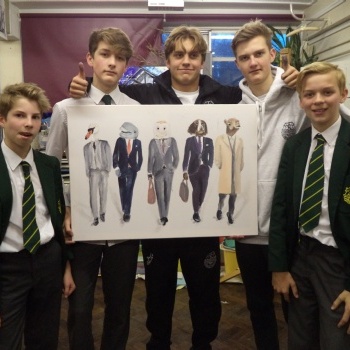 Pupils from Year 7-13 were encouraged to take part and the competition was held from Monday 8th - Thursday 11th February, during Period 7
This year the theme set for the Inter-House Art Competition 2016 was:
Gordon's School Values
Pupils from Year 7-13 were encouraged to take part and the competition was held from Monday 8th - Thursday 11th February, during Period 7.
The title was given to the Houses in advance so they could research, plan and have a good idea of what they were going to do during the 2 hour competition.
This year for the first time, pupils were provided with an A1 sized canvas on which to work. Pupils planned their piece prior to 8th February and put together their research, analysis and evaluation. Unbiased judging took place after the competition dates with pupils' work judged on the following:
IDEAS: Originality, and an obvious development of an idea.

RESEARCH: Evidence of link to art/the arts for inspiration.

PRACTICAL SKILLS: Ability to use medium or materials.

PRESENTATION: Overall finish to the final piece.
Each year I am delighted to see each House put a lot of time and effort into thorough planning, research and organisation with this year being no exception. The judges were particularly impressed with all the creative ideas, as it was clear to see careful thought and imagination had gone into considering a personal and collective link to the title 'Gordon's School Values: Courtesy, Integrity, Diligence, Enthusiasm and Resilience'. After much deliberation, judges agreed unanimously on the top 3 Houses:
1st Place: SANDRINGHAM!
2nd Place: KENSINGTON
3rd Place: WINDSOR
Congratulations to overall winners, Sandringham!
SANDRINGHAM


Sammy Parmenter, Cameron Heslop, Alex Saunders, George Daubney and Ollie Blackwell.
BALMORAL


Ifiok Essien, George Hawkins, James Toller, Kyle Campbell and Duncan Fay.
WINDSOR


Jess Tillman, Alice Hickin, Emily Hickin, Kashi Gurung and Charly Tyson.
AUGUSTA


Cerys Carson, Jas Roberts, Grace Fulk, Zoe Harris and Cherry McMahon.
KHARTOUM


Dan Farrow, Dan Gurzynski, Tim Udovidchenko, Oliver Pinder and Jayden Evetts.
GRAVESEND


Josh Richardson, Benji Holland, Oliver Bandosz and Harry Porter.
KENSINGTON


Teresa Stander, Megan Clarke, Rebecca Dovener, Bel Lowe and Sophie Benson.
CHINA


Mattie Bradshaw, Laura Gumbrell, Stephanie Bradbury, Bex Moffat and Emily Preece.
Many Thanks to Heads of House, House Tutors, gap students, pupils and to the judges for the help and support throughout this year's very successful Inter-House Art Competition. Congratulations to Sandringham and well done to everyone. The Art Department look forward to next year's competition.
Please click here to view more photos from the Inter-House Art Competition.
Mrs Gibbs