Gordon's Wins Business School of the Year Award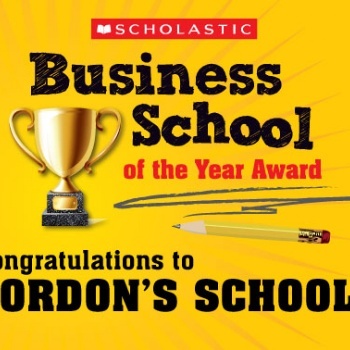 Hundreds of pupils in schools across the UK took part by volunteering to plan, promote and run their Scholastic Book Fair
Gordon's announced as winners of the Scholastic Business School of the Year Award
Hundreds of pupils in schools across the UK took part by volunteering to plan, promote and run their Scholastic Book Fair as an enterprise scheme and submitting a report about the successes and challenges they faced.
The award, now in its fourth year, was created to recognise the highest level of enthusiasm, effectiveness and innovation in a school running their Scholastic Book Fair as a Business School project in which the pupils took the reins. The high standard of entries was clear but Gordon's pupils are delighted to be named as winners.
The names of pupils who participated are as follows:
Year 8: Nate Watson, Jess Holmes, Oliver Pinder, Ben Hancock, Joshua Deakin, Siddhant Ghotane.
Year 9: Seren Hughes, Tony Nikolov, Jamie Blake, Tiana Stead
The judges at Scholastic commended Gordon's School on their professional entry, and said it was "an exceptionally thorough and well-presented project." The pupils' dedication and effort was clear, and they explained the thought process behind each element of their Fair. They opened the Book Fair with a red ribbon ceremony and hosted a quiz to win a £5 gift voucher at the event. As Scholastic Business School of the Year 2014-2015, Gordon's School will receive £500 worth of children's books, an engraved trophy and certificates for all participants.