ROWERS CUTTING THE CAKE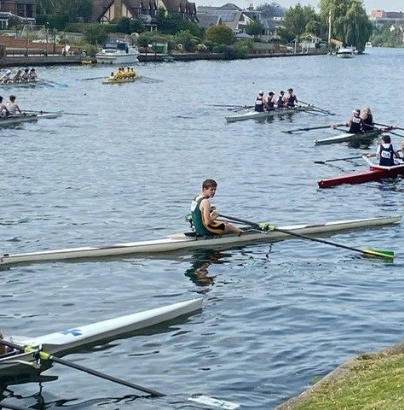 For once their 'cutting the cake' was just that! Gordon's Boat Club has enjoyed a phenomenal summer of training and wins. But the icing on the cake was the surprise tea party parents and students staged for their coach, Alan Inn's birthday! The three times Olympian cox, who has offered so much time to the students throughout the summer holidays, was delighted.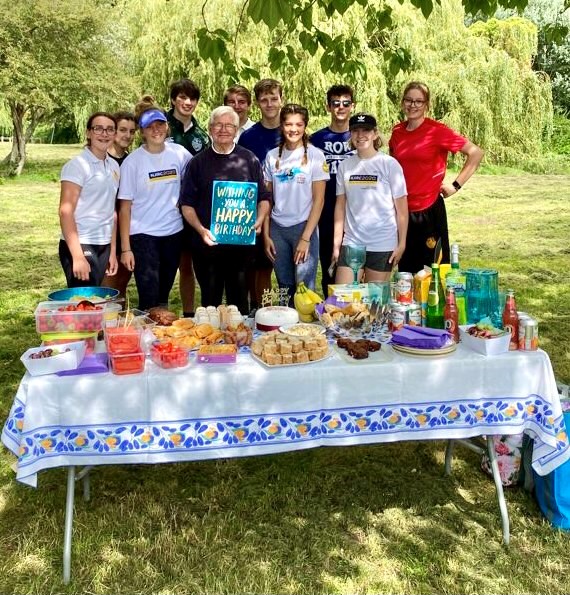 The Boat Club's dedication and perseverance with their training has paid off, resulting in the first ever wins in open regattas – two at Molesey (Lottie with the WJ18 single sculls and Frankie and Sophie the WJ16 double sculls). Lottie won again at Staines Regatta and James narrowly missed out on his first win due to some sleepy geese!
Training has continued on land at Surrey Sports Park under the supervision of experts in strength and condition and on the water with Mr Inns in single and double sculls. Looking back on the 20/21 season, Mr Inns pointed out that two new boats had been added to the growing fleet of first class racing boats and he paid tribute to the parents: "None of these [wins] would have been possible without the help and involvement of all the parents both on the water with me and in the organisation, admin and logistics involved with training going on simultaneously at different venues".
The season ended with 24 students and their parents enjoying the Stewards' Enclosure at the Henley Royal Regatta.