'Coram Boy' Drama Production 2016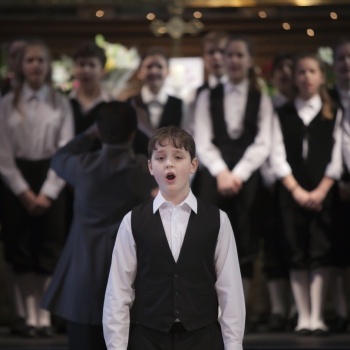 Since joining the school in September, it has been non-stop with auditions and rehearsals for 'Coram Boy'

Drama Porduction: Coram Boy 2016
Since joining the school in September, it has been non-stop with auditions and rehearsals for 'Coram Boy'. This process has been one of the most enjoyable events for me at Gordon's so far! This fantastic, dark and challenging play was performed by the students on the 2nd, 3rd and 4th February 2016.
Not only was the production challenging for the students, with its dark and emotionally mature content, it was also a site specific piece and based in Gordon's stunning Chapel. This site presented us with some challenges; such as no holding room, no lighting bars and difficult sight lines. However, with the amazing vision of Tom Baxter we overcame every puzzle whether it was having lighting bars built or raising the seating! This exciting venue and the use of the aisle and all three exits, surrounded and immersed the audience in the intense and gripping storyline. A special thank you needs to be given to Denis Robinson for allowing us to use the Chapel for such a fantastic event.
As ever, Gordon's students have been extremely enthusiastic to get involved with the arts and as a result there was a cast of 50 and a back stage crew of 15. The students dealt with the challenging plot admirably and their talent shone through within the range of complex characters. We put the students through their paces with the use of many different entrances and exits, the combination of the naturalistic and non-naturalistic style, the singing and the use of physical theatre. The students rose to and exceeded our expectations and created an inspiring production. The student's acting, use of physical theatre and interaction with the audience was all complimented by the use of lighting and music. This in-turn, combined with the atmospheric Chapel, brought the whole piece together beautifully.
The split cast provided an amazing opportunity for some of our younger students to obtain principle roles. Praise must be given to Keaton Hill and Ryan Knight who battled sore throats and fatigue but sang exquisitely over the three nights. The whole cast of younger actors brought so much energy to the piece and this, combined with our older actors truly showcased the range of talent that Gordon's has. Special acknowledgement needs to be given to Victoria Howard-Andrews (Mrs Lynch), Alex Jaksic (Sir William Ashbrook), Rebecca Vernon (Lady Ashbook) and Milly Putley (Mrs Milcote); our Year 13 students, who should be credited for their maturity, commitment and passion for their roles. It will be sad to see these Year 13's leave us at the end of this year but they have been excellent role models for our younger students and due to this I am confident that our younger practitioners will flourish.
Thank you to everyone who has been involved with this production behind the scenes, from Stage Managers and Technicians to Facilities, Maintenance and the Catering Staff. Without all your help and hard work, none of this would have been achievable.
Kathryn Moore
Director of Extra-Curricular Drama
Audience Comments:
'Thank you for inspiring the students to put on a fantastic performance. This was not an ordinary play and the complex issues of the content, unusual setting, choreography and overall performance of the cast were managed wonderfully. This must have been extremely difficult to pull together - so hats off to you, your cast and crew (students and teachers). Thank you for a very enjoyable evening!'
Jasmin Aquan-Assee & Julian Webster
'We have just been to see Coram Boy and I wanted to write to you to thank you for giving us the opportunity to see this very complex play. What a fantastic production! The cast were amazing and they had so many lines to learn as well as going in and out of the Chapel using various exits. We thoroughly enjoyed our evening which was for us also a walk down memory lane.'
Diane Towse
'It was fantastic, and the hard work and vision shone right through. When I first heard it was going to be staged in the Chapel I just couldn't visualise it. What you and the team produced was inspired. I am so proud for my son to have been part of it. Thank you! Thank you! Thank you!'
Rebecca Knight
'I was completely over whelmed by the whole production. Obviously I was familiar with Keaton's part as I feel I knew his lines as well as he did from practising them in the kitchen at home – but I wasn't prepared for the impact of his overall performance. There were of course many really stunning performances from the other children.
Bravo to you and the whole team for producing a very professional and thoroughly enjoyable evening of entertainment'
Frances Hill
Please click here to view more photos from the production.