Arete Partnership: Debating Competition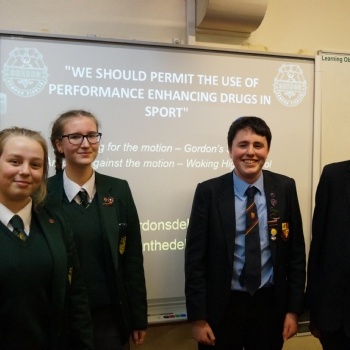 The final of the Arete Debating Competition took place at Gordon's School
The final of the Arete Debating Competition took place at Gordon's School in the library during Period 7 on Monday 18th January 2016. The title of the debate was contentious and proved a challenge for both sides with Gordon's School being given the task of arguing in support of the motion: This House Believes That We should Permit The Use Of Performance Enhancing Drugs in Sport.
As each pupil delivered their speech we realised that this was going to be a struggle of the Titans.
The quality of debate was outstanding, with each speaker confidently using their skills as orators as well as the careful research they had clearly done to present strong arguments and a firm rebuttal of their opposition's views. With such well-matched speakers it really was difficult for the judges to decide on the winning team.
Winning by just one point Woking High School was awarded the prize and the afternoon ended with good humour and a chance to talk further over tea. As well as our excellent speakers, Olivia and Phoebe, we were delighted to see many students from Gordon's School, Woking High and new school Hoe Valley who came to support and speak at the event. We would like to extend a huge vote of gratitude to our guest judge Mrs Alford, Head of Hoe Valley School, as well as Mrs Mitchell for organising such an interesting and enjoyable afternoon of top quality speeches.
Click here to learn more about the Arete Partnership programme.