WE SHALL REMEMBER THEM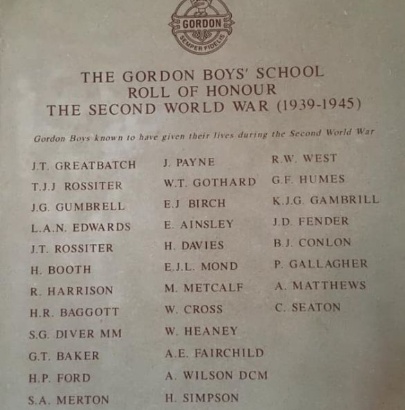 Remembering all those who made the ultimate sacrifice in the Second World War and our own, commemorated on the Roll of Honour In the school chapel.
The Friday Reflection from the Reverend Sarah Norbron the school Chaplain:
VE day celebrations have been somewhat dampened by the lockdown situation we find ourselves in. When the decision was made to change the Bank Holiday date, we could never have expected to be largely 'Staying at home' due to the coronavirus. Today there is a plan for remembering the fallen in a two-minute silence at 11.00am, for listening to Churchill's speech and to sing along with Vera. This is good and important that we remember, and the words of 'We'll meet again' ring very true at this time. But I do hope we are honouring the heroes of today as well as those of yesteryear, celebrating the multicultural Britain that we are, and those who are putting themselves on the frontline for us all. I know we are, and the NHS/key worker banners and rainbows will no doubt mingle with British bunting.
After war there usually follows a degree of peace. And I know that many of us are looking forward to greater peace to calm anxieties once the virus is no longer a threat. But I do believe that we don't have to wait until such a threat is over, to experience this inner peace. Yes, there will still be those moments of fear, but God can give us 'The peace that passes all understanding.' May those going through difficulties right now, know this peace, whether they are sick, know someone who is sick, or are working on the frontline. I hope this UK blessing from Churches around the country, offers you that peace right now. Please click here for 'The Blessing' from churches across the UK.