FUND LAUNCH FOR NHS AND KEY WORKERS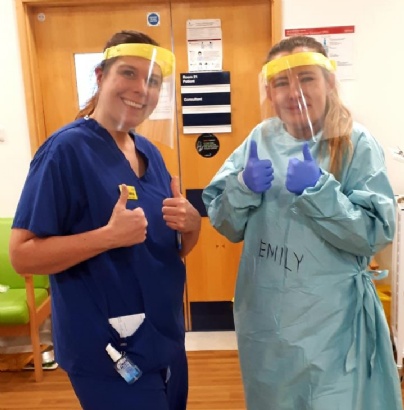 Inundated with offers of materials and practical help in making protective visors at Gordon's for the NHS and Key Workers, as well as well-wishers wanting to contribute financially to the school's production, we have today launched a Gofundme page. All donations made through the page will go towards these frontline workers.
Hundreds of visors have been supplied so far to hospitals such as Frimley Park; St Peter's; Woking Community. In addition, they are now being worn by staff in care homes; GP and vet surgeries; supermarkets and charities.
The visors were made by DT Teacher Tom Webb and his team of teachers from PE; Careers and Psychology as well as House Parents.
Our picture shows Gordon's Medi Nurse Emma Light (left) and a colleague at Frimley Park Hospital sporting visors freshly made in the school's workshop.

We thank you in advance for your donation and for helping us to continue contributing to frontline workers. For updates on the voluntary work the school is doing, please follow us on Facebook (@GordonsSch); Twitter(@GordonsSch) and Instagram (@gordonsschofficial).