Students receive DofE Gold Award Certificates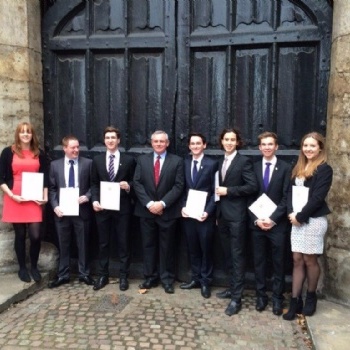 Eight current and former Gordon's School students were presented with their Duke of Edinburgh's Gold Award Certificate in St James's Palace
Eight current and former Gordon's School students were presented with their Duke of Edinburgh's Gold Award Certificate in St James's Palace on Wednesday 2nd December 2015. The presentation was made by the former Chief Pilot of Concorde, Captain Mick Bannister. Mick told the Gold Award holders:
'A lifetime achievement, something you should be exceedingly proud of. You really have done something special. Every single one of you might have thought I can't do this anymore. Today is all about you, about your ability to be professional, to commit and to serve- you have achieved a fantastic thing!'
The Duke of Edinburgh chatted to various groups before the presentation in the Queen Anne Room. Expeditions undertaken by the Awardees included Snowdonia, Borneo, Norway and the Himalayas. Mr Fox was in attendance as a representative from the school and acting as the DofE Marshall. We are delighted to have had so many successful candidates at the Palace on the same day and look forward to many more in the future. The school strongly supports the scheme and this summer over 60 pupils from the school will be taking part in the Gold Expeditions in the Brecon Beacons, Snowdonia, Morocco, Norway and the Indian Himalayas.