Lanzarote Dive Trip 2015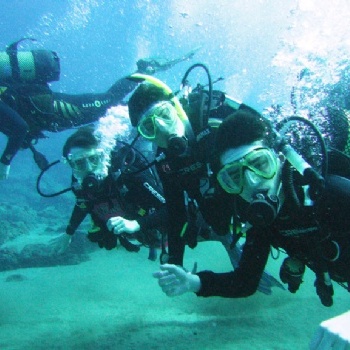 Over the October half-term we, a group of 16 students along with 3 members of staff went to the island of Lanzarote for a jam-packed week full of scuba diving
Over the October half-term we, a group of 16 students along with 3 members of staff went to the island of Lanzarote for a jam-packed week full of scuba diving with the Canary Island Divers.
We started the week with a mixture of diving ability and experience, ranging from people who had never dived before to fully qualified divers. By the end of the week everyone had successfully achieved a qualification; this included 6 PADI Open Water, 10 PADI Advanced Open Water and 3 PADI Digital Underwater Photography specialities.
Alongside a team of friendly, supportive and engaging instructors we were able to visit a variety of different dive sites, such as The Harbour Wall, The Blue Hole and The Cathedral as well as two unique wrecks, one of which was a boat dive. We were very lucky as we saw a wide variety of sea life including Angel Sharks, Starfish, Seahorses, Cuttlefish, Octopus and many more tropical fish.
In the evenings we ate at a large variety of restaurants and one evening we even played mini golf, which ended up being quite a competitive game! With the crowning of the coveted 'Star of the Day' and the infamous 'Wally of the Day' being a highlight of every evening. We would like to say a special thank you to the teachers involved, Miss Larkin, Mr Harrison and Mr Ralphs, for an amazing and fun filled trip!
Written by Rebecca Luke, Jack Holland and Lauren Kemp