Arete Partnership: Cross Country Competition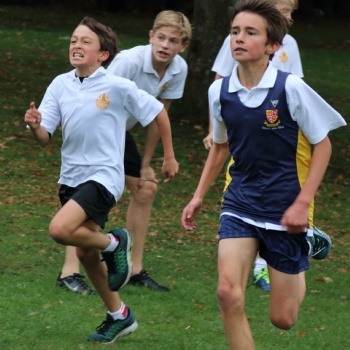 The very first Arete Cup sporting event took place between Gordon's School and Woking High School on Wednesday 21st October
Arete Partnership: Cross Country Competition
Gordons - 14 Woking High - 10
The very first Arete Cup sporting event took place between Gordon's School and Woking High School on Wednesday 21st October between 4.00pm – 5.30pm. This was the first of many sporting events which will take place throughout the course of this academic year. The competition involved volunteers from Years 7-10 and included teams of boys and girls from each school. The popularity of this event was seen in the number of competitors from both schools, totalling 136 runners. As well as the impressive number of competitors there was also a large crowd of spectators from both schools enjoying the scene and encouraging individuals from every year group and school. The atmosphere was extremely positive and friendly and proved an excellent start to this new partnership.
Both school teams displayed real enthusiasm and resilience in some adverse weather conditions and spectators were treated to some excellent team and individual performances. It is a pleasure to report that Gordon's School emerged as victors, winning 6 out of the 8 team events. However this result does not reflect the efforts and individual performances of the runners from Woking High School and we would like to congratulate them all for taking part. Gordon's girls were outstanding winning every age group with the boys just missing out in Year 7 and 10, but winning Year 8 and 9 heats. Individual results are printed below this report.
The competition was a great success and would not have been possible without the dedicated staff and students at both Gordon's and Woking High School. A special vote of thanks must go to Mrs Justice and Mr Monk at Gordon's for creating and organising the event along with Mr Justice at Woking High who was also responsible for co-ordinating the transportation of Woking High School pupils back and forth during the event. Further thanks must go to the PE staff, Gordon's Catering and Facilities teams who ensured the event was set up to run smoothly and make our visitors feel welcome. A final vote of thanks went to the young sports leaders: Megan Hunt, Amy Beet, Carys Lawrence, Kristina Hay, Jack Gibson and James Kennett who assisted staff in running each section of the competition. At the end of the competition Mr Moss and Mrs Abbott, the Heads of each competing school, awarded the first Arete Partnership Individual Medals ever given at an event and read out the points which will be added to the scores of the other competitions to be held this year. Each Head gave a short speech that ensured the afternoon ended on a celebratory note for both schools and all involved felt the Arete Cup had started with real enthusiasm and success.
The bar has been set really high for the Arete Partnership competitions and we know that the next sporting event, which is the Swimming Gala in January 2016, will be equally competitive, enjoyable and successful.
Gold Medals 1st Place Overall
Year 7: Joanna Hay
Year 8: Amy Dove
Jack Bodell
Year 9: Abi White
Reef Peries
Year 10: Sophie Dove
Silver 2nd Place Overall
Year 7: Molly Barnard
Year 8: Phoebe Norman
Ollie Blackwell
Year 10: Keavy Bye
Bronze 3rd Place Overall
Year 7: Harvey Huwson
Year 8: Ella Litjens
Luke Esperanca
Year 9: Corum Nott
Year 10: Esme Holmes
Report by: Media Club